Monsters, Inc.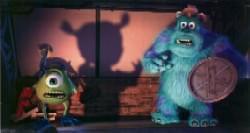 Photo: © Disney/Pixar. All rights reserved.
Director(s): Pete Docter
Writer(s): Andrew Stanton and Daniel Gerson
Cast: John Goodman, Billy Crystal, Mary Gibbs, Steve Buscemi, James Coburn, Jennifer Tilly, Bob Peterson, John Ratzenberger and Frank Oz
Pixar takes computer animation to a new level with their comedy Monsters, Inc.
Look, we have no idea what a "rendermark" is, but whereas 1.1 million rendermarks were required in Toy Story 2, 2.5 million were needed for Monsters, Inc. Whatever a rendermark is, the depiction of fur, hair and clothing movement is amazing in this latest Pixar release. Technical director Tom Porter points out that "Monsters, Inc. has always been a film about a big hairy monster interacting with a small child. The small child is wearing a T-shirt through much of the film. All of a sudden we realized that we had to deal with hair and clothing — two issues that computer graphics hasn't dealt particularly well with in the past. Our goal was to avoid having the animators detail the movement of the wrinkles on the clothing. We set to build intelligence into our models to dynamically move the hair and clothing in accordance with the character animation that was created."
Okay, so it's a technical film. But is there heart? According to executive producer/writer Andrew Stanton, "The first and last thing that [Pixar executive vice president, creative] John [Lasseter] asks with regard to the story is 'do I care, do I care, do I care' It's always heart first and head second."
Read our review.