National Treasure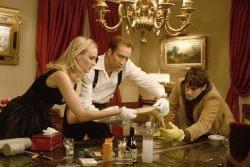 Photo: ©2004 Disney Enterprises, Inc./Jerry Bruckheimer, Inc., All rights reserved
Director(s): Jon Turteltaub
Writer(s): Jim Kouf, Cormac Wibberley and Marianne Wibberley
Cast: Nicolas Cage, Jon Voight, Harvey Keitel, Diane Kruger, Sean Bean, Justin Bartha and Christopher Plummer
Release Date(s)
Nov 19, 2004 - Wide


A 2,000-year-old mystery and some of America's most famous monuments and landmarks act as the backdrop to National Treasure, the new film from producer Jerry Bruckheimer and director Jon Turteltaub. Starring Nicolas Cage as Benjamin Franklin Gates, the film follows his search for the treasure of the Knights Templar using clues left by America's Founding Fathers. When he discovers the final clue is on the back of the Declaration of Independence he knows he must steal it in order to prevent it from falling into the hands of his ruthless adversary, played by Sean Bean. Aided by his friend Riley (Justin Bartha) and the skeptical National Archives conservator Abigail Chase (Diane Kruger) Gates sets out to steal the USA's most cherished document.

"I have always wanted to make a smart treasure hunt movie filled with secret codes, puzzles, heroes, villains and plenty of twists," says producer Jerry Bruckheimer. "Everyone loves a good mystery-and this one is especially exciting because it is steeped in real American history. When you add to that the audacious idea of planning a heist to steal the Declaration of Independence, the fun really begins."

Director Jon Turteltaub shared the excitement for the film's concept. "The idea of a treasure map being hidden on the back of the Declaration of Independence really excited me," he says. "Usually, in a treasure hunt movie, the trick is how the hunter gets to the treasure. But in this film, part of the fun is how Nicolas Cage gets to the map and then keeps the map protected because it's so invaluable even without the treasure. So all of that combined instantly said to me: there's adventure here, there's a caper here, there are characters who have to be clever and savvy, and it became even more thrilling."

The creative team was aided in their treasure hunt by a cast that also featured Jon Voight, Harvey Keitel and Christopher Plummer.

Though the story seems fantastical, there are many elements of truth peppered throughout based on historical rumors about the Knights Templar Treasure, secret codes of America's Founding Fathers, and mystical Masonic symbols on the U.S. dollar bill. Bruckheimer says these elements of truth are important to bring the audience along for the ride. "When you make a treasure hunt movie, I think the clues that lead you forward have to be really smart and based on true history, which is what we did with National Treasure," he says. "We take simple things, like the dollar bill, which is something you use every day but never really look at, and we reveal secrets that are hidden in it. After you see this film, you'll look at the dollar in a whole new way."

Screenwriter Jim Kouf worked hard to research the story elements. "When I met with Jon Turteltaub, he was thrilled by the idea of a guy stealing the Declaration of Independence and the moral dilemmas that would present to the character. I spent a long time working on the script — 9 or 10 months of doing lots of research on the Declaration of Independence and the legends that surround treasure hunting in America. We took a lot of historical events and played with them, building on what might have been or what could have been."

Screenwriters Cormac and Marianne Wibberley also added their research to the script, studying the Knights Templar Treasure and stories that the treasure may have found its way to North America. "Many people believe the treasure came to North America," notes Cormac. "Intriguingly, it has also been supposed that Christopher Columbus was a Templar Knight, so that might have been a way for the treasure to get to here originally."

Of course the story needed engaging characters to sweep through the dusty history books. Director Turteltaub says, "What I loved about the final script is that it was filled not only with very smart action and a surprising amount of humor, but also terrific characters. Ben Gates is someone who feels a strong, personal connection to history and this is what ultimately gives him the courage to go to the outrageous lengths he does to protect the Declaration of Independence by stealing it and to search for a treasure whose worth to humankind is beyond price."

The film's star, Nicolas Cage, was drawn to the story and his character. "What's interesting to me about Ben is that he has several equally huge motivations to find this treasure: there's his passion for history and restoring things to their right places in the world; there's the fact that the treasure is going to be worth a completely unfathomable amount of money; there's the fact that he's been searching for this treasure his entire life; and there's his relationship with his father, and his drive to return his family's good name — and in the course of the film, he is tested and has to really figure out which of these is most important and what he really wants," explains Cage.

National Treasure opens on November 19th, 2004.