Old Dogs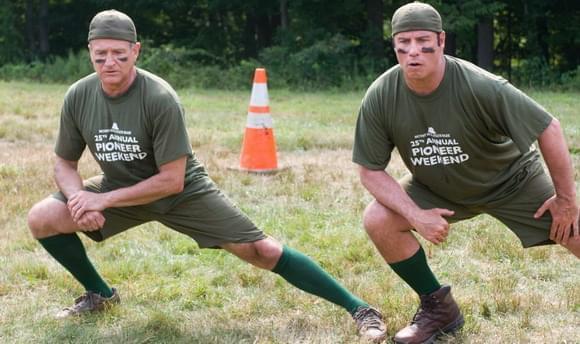 Photo: Photo: Ron Phillips © Disney Enterprises, Inc. All rights reserved.
Director(s): Walt Becker
Writer(s): David Diamond and David Weissman
Cast: John Travolta, Robin Williams, Kelly Preston, Conner Rayburn, Ella Bleu Travolta, Lori Loughlin, Seth Green, Bernie Mac, Matt Dillon and Ann-Margret
Release Date(s)
Nov 25, 2009 - Wide
Read our review.
In Old Dogs, two best friends, sports marketing experts played by John Travolta and Robin Williams, are on the verge of the biggest deal in their life when they get thrown a curveball. Dan (Williams) finds out he has 7-year-old twins (Ella Blue Travolta and Conner Rayburn) and has to take care of them while his old flame (Kelly Preston) heads to jail for two weeks. Can a man who deals with numbers better than people connect with the children with the aid of his happy-go-lucky friend? Can these old dogs, set in their bachelor ways, learn new tricks?
Producer Andrew Panay says the script was developed with Williams and Travolta in mind. "Our first choices were always John Travolta and Robin Williams. There are only a few guys that this movie is right for, and they are two of the best in the world. I mean, you don't get much better. It's really an honor to cast two screen legends together in this film. It's just a dream come true."
Director Walt Becker, who worked with Travolta on Wild Hogs, says, "John's always great to work with. He's just about the nicest human being on the planet and as an actor he elevates every single scene he's in. In terms of instincts, he's always right. We've learned to trust each other, and when he's feeling something is working or I feel something is working, we kind of run with it."
Charismatic star John Travolta liked the script's pairing of comedy and emotion. "I look for parts that I can do something with. I like to think, 'Can I contribute something special and make it worthwhile for someone to use me in a film?' It's very important that my interpretation of the character benefits the story."
Williams saw the script as a chance to revisit fatherhood. "Baby boomers are getting old. You find yourself taking a lot more time to do everything. We are now our parents; that's frightening. You find yourself saying 'I am my dad,' and it's a lot scarier dealing with children in your 50s than it was in your 30s."
One of the children Williams had to deal with was very familiar to his co-star: Ella Bleu Travolta. John knew he needed to maintain a hands-off presence. "I knew how to do that because my mother was an actress and director, and she knew how to separate professional behavior from familial behavior. I'm always Ella's dad, but I'm also professional with her. I never interfered with the director's rapport," he says.
The old dogs try to learn new tricks when Old Dogs opens in North America on November 25th.
Read our review.