Oz the Great and Powerful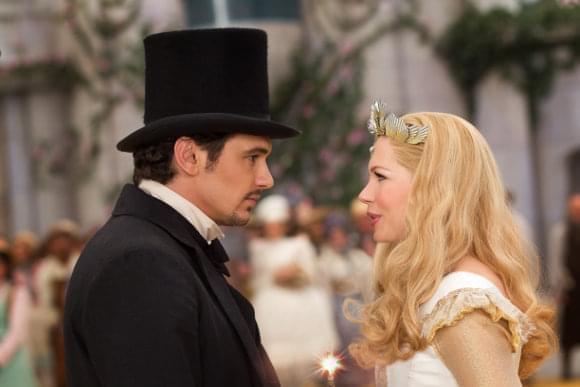 Photo: ©2013 Walt Disney Pictures
Director(s): Sam Raimi
Writer(s): Mitchell Kapner and David Lindsay-Abaire
Cast: James Franco, Mila Kunis, Rachel Weisz, Michelle Williams, Zach Braff, Joey King and Tony Cox
Director Sam Raimi imagines what happened before L. Frank Baum's book The Wonderful Wizard of Oz in the new 3D film Oz the Great and Powerful. The film stars James Franco as magicin Oscar Diggs, Mila Kunis, Rachel Weisz, and Michelle Williams as a trio of Oz witches, Zach Braff as the voice of Finley the flying monkey and Joey King as the voice of China Doll.
Raimi says that the film "…is the story of how the wizard came to be the wizard. It's a story of how a small-time carnival magician, a faker, a charlatan, a selfish man, comes to a fantastic world just in time to save the day. It's the story of how an average, selfish man becomes a great and selfless wizard."
Franco liked Oz's journey. "He starts off a little bit rakish. He's a magician in a traveling circus. When he ends up in Oz, all of the issues that he wrestled with in the real world are now, in some ways, made more extreme but also transformative."
Though many of the images you see in the film are computer-generated, production designer Robert Stromberg realized that it couldn't all be virtual. "The other projects I've done have been much more virtual," Stromberg says. "For this particular film, I wanted to define a theatrical stage quality. I don't think that you can get that from completely digital worlds. So, the only way to achieve that theatrical stage feeling was to build large sets on sound stages. Then extend those using visual effects in a supportive role rather than a dominant role that takes over all aspects of the filmmaking process."
Director Raimi agreed with the approach. "It was important for me to have a lot of sets for the actors. I really wanted them to have something to touch and see that was real. Out of a window in Oz, I didn't mind if they would imagine the world beyond our sets. But, I wanted Oz to be a real place as much as possible."
You'll have your chance to travel to Oz when Oz the Great and Powerful opens on March 8th, 2013.
Read our review.