Paul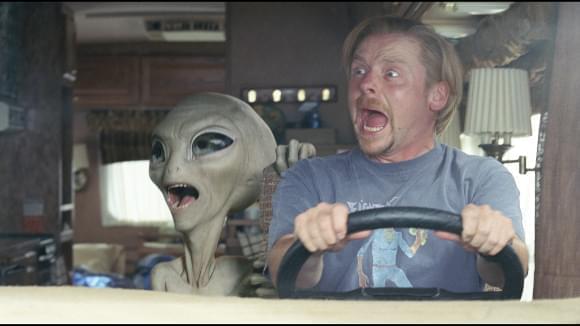 Photo: ©2011 Universal Pictures
Director(s): Greg Mottola
Writer(s): Simon Pegg and Nick Frost
Cast: Simon Pegg, Nick Frost, Seth Rogen, Jason Bateman, Kristen Wiig, Bill Hader, Blythe Danner, Joe Lo Truglio, John Carroll Lynch, Jane Lynch, David Koechner, Jesse Plemons and Sigourney Weaver
Release Date(s)
Mar 18, 2011 - Wide


When two sci-fi fans decided to take a post Comic-Con road trip of America's UFO hot spots, they never dreamed that their newest passenger would be an alien. But that's exactly what happens when Graeme (Simon Pegg) and Clive (Nick Frost) end up enlisted to help escaped space alien Paul (Seth Rogen) high-tail it away from Area 51. Along the way they kidnap a woman (Kristen Wiig) and manage to get hunted by her father and a trio of federal agents led by Jason Bateman.

Superbad's Greg Mottola directs the script by frequent acting partners Pegg and Frost. The idea had fermented for several years. Working on a rainy shooting day for Shaun of the Dead, Pegg suggested to producer Nira Park, "Let's make a film somewhere it never rains, like a desert." The alien road trip idea sprung from that.

While working on Hot Fuzz, Pegg started to jot the story down. When Eric Fellner at Working Title Films read the notes, he was hooked. Says Fellner, "Nira sent over the treatment, and I was eager to find out what Nick and Simon were cooking up. By its very nature, a road trip is about exploration and discovering places and people you've never encountered. When I read how this concept had been married with an alien comedy, I thought it was brilliant."

The film also marked the first time that Pegg and friend and on-screen collaborator Frost had written together. They travelled together too, taking an RV trip from LA to Denver in order to get ideas and some of the incidents that happened to them made their way into the script. Says Pegg, "The collaboration has been an interesting experience, because we've slightly changed the dynamic of our characters in this one. In the other movies, which I wrote with Edgar Wright, I played the main character and Nick is the sidekick. But this film is very much a doubleheader. If anything, Nick's character, Clive, is slightly more dominant and confident, whereas my character, Graeme, is a bit of a wallflower at first."

When Frost and Pegg saw Superbad, they knew they had found their director in Greg Mottola and the admiration was mutual. "Nick and Simon have created smart, interesting characters and I find them really appealing as performers," says Mottola. "Together, they have that special chemistry that is endlessly enjoyable to watch. I think it's because they're close friends and that they make each other laugh effortlessly."

Rogen, who voices Paul, actually had met Pegg and Frost years earlier at, of all places, San Diego's Comic-Con. The Canadian actor had a fellow Canuck in mind when he thought of Paul's character. "I thought it would be funny if these nerdy, uptight guys met up with a Neil Young-type guy who was an old hippie who'd seen it all and has a chilled-out attitude…but is also very passionate about some things. Because Neil Young rocks hard and I wanted Paul to have that also."

You can watch Rogen's alien rock hard when Paul opens on March 18th, 2011.