Rent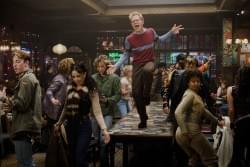 Photo: ©2005 Revolution Studios. All rights reserved.
Director(s): Chris Columbus
Writer(s): Stephen Chbosky and Jonathan Larson
Cast: Rosario Dawson, Aaron Lohr, Tracie Thoms, Anthony Rapp, Adam Pascal, Idina Menzel, Jesse L. Martin, Wilson Jermaine Heredia, Taye Diggs and Sarah Silverman
Release Date(s)
Nov 23, 2005 - Wide


Bringing Rent to the big screen would not be an easy task. The Broadway show, which had won the 1996 Pulitzer Prize for Drama, the Obie Award, the New York Drama Critics Circle Award, four Tony Awards and three Drama Desk awards, had a devoted following of "__Rent__heads" that would watch director Chris Columbus' every move.

Columbus had been trying for years to bring the musical to the screen and was finally able to partner with Robert De Niro's Tribeca Productions and arrange financing through Revolution Studios. The director felt an affinity for the story.

"I lived in New York for 17 years in the 1980s when Rent takes place. I lived in a loft and had a lot of those experiences. We were dirt poor and we lived in a loft on 26th Street in Manhattan for three years," Columbus says. "I could relate to exactly what the characters of Mark and Roger were going through. I knew those people. So for me, it was an opportunity to go back to a very important time in my life and to bring my own experiences to that part of it. I was concerned about someone else doing it who didn't have that experience and hadn't lived in that world. For me it was extremely important not to homogenize any of the elements of the play. I wanted the film to be, in a sense, even grittier because film enables you to be a lot more realistic."

Though the director looked at a variety of names for the cast, he kept coming back to corralling as many of the original performers as he could.

"These actors embody something that is both rare and tragic. They experienced Jonathan Larson's death just hours before the show's first preview. The complex emotions and intense feelings that resulted from this sad event helped fuel their performances for almost two years. So, besides being amazingly talented, these actors bring something rare to Rent, a richness and depth and understanding for the material that can only come through a shared life experience."

Columbus was able to cast six of the eight original leads. Adam Pascal, who reprises his role of Rogers says, "The fact that Chris put us in the movie makes him a genius in my mind. To have the foresight to use the original cast and not a bunch of Hollywood 'It' kids, is amazing in and of itself."

Jesse L. Martin also gave kudos to Tracie Thoms and Rosario Dawson, the two new cast members. "Rosario and Tracie found a way to become part of our family almost instantaneously. They fit like a glove. It has been an incredible experience. I'm so glad they were there because I got to make two new friends as well."

Despite the fact that so many of the performers were familiar with the material, Columbus still put them through an intense rehearsal period to work on new musical arrangements and also to adapt their stage performances for the screen.

Wilson Jermaine Heredia, who reprises the role of Angel, believes that the transformation from stage to screen works. "I think 'Rent,' is very different from other musicals being translated to film," says Heredia. "The stage musical was an anti-musical. And I believe that this is going to be an anti-musical movie. It doesn't have big flashy numbers for the sake of being big and flashy. Every single number actually tells the story."

Rent opens November 23, 2005.