Rock of Ages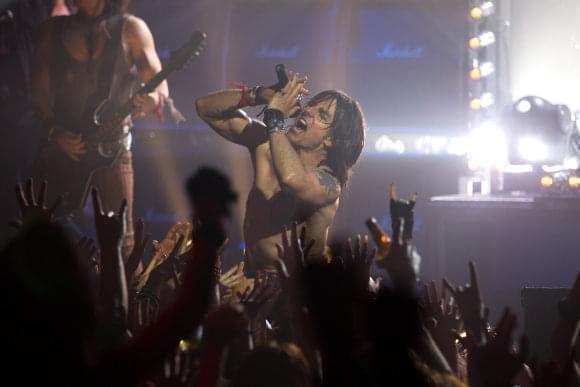 Photo: ©2012 New Line Cinema
Director(s): Adam Shankman
Writer(s): Justin Theroux, Chris D'Arienzo and Allan Loeb
Cast: Julianne Hough, Diego Boneta, Russell Brand, Paul Giamatti, Catherine Zeta-Jones, Malin Akerman, Mary J. Blige, Alec Baldwin and Tom Cruise
Release Date(s)
Jun 15, 2012 - Wide


The Broadway musical Rock of Ages makes the transition to the big screen as it tells the tale of a small town girl and a city boy pursuing their dreams on the Sunset Strip.

Director Adam Shankman was a natural choice to direct. "My dad was a music business manager, and his office was on the Strip," he says. "I knew a lot of artists. I was choreographing music videos in 1987 and it was a world that I really understood and loved, so turning back that clock was an opportunity I couldn't pass up." He also thought directing a musical about rock gods would make for an interesting twist. "I thought it would be an interesting challenge to make a movie musical that guys would drag their girlfriends to for a change."

Screenwriter Justin Theroux, who tabloid readers might recognize as Jennifer Aniston's squeeze, found it a new experience to adapt a musical. "In a weird way, you write backwards from the point of view of the song. The song is always the emotional center for the characters in any given scene, so it's fun to try to get them to that specific destination. The song does a lot of the emotional heavy lifting for you, but you have to build ramps up and down, to and from, that centrepiece."

Julianne Hough, known to country music and Dancing with the Stars fans, was cast as Sherrie. Shankman had directed one of her music videos and says that the cute blonde "…has an extraordinary rapport with the camera; her beauty and talent is right there in a really big way."

Newcomer Diego Boneta landed the role of Drew after a nationwide search. Shankman says that "Diego's audition tape came across my casting website, and after I watched it, I just had that feeling."

The next puzzle piece was who to cast as Stacee Jaxx, the rock god looking to go solo. Shankman says he thought "'Wouldn't it be cool if we got one of the biggest movie stars in the world to play one of the biggest rock stars in the world?' And, as luck would have it, I ran into Tom Cruise, told him I was directing this movie, that it was a musical, and that I was going to offer him this part. He said, 'Are you serious?' I said I was. Then I described Stacee to him and he laughed really hard. The next thing I knew, he was in, and I was making a musical with Tom Cruise."

Cruise had some opera singers growing on his family tree, so it was just a matter of tapping into his genes and working with vocal coach Ron Anderson.

Toss in Catherine Zeta-Jones as an uptight conservative, Alec Baldwin and Russell Brand as the duo running The Bourbon Room, Paul Giamatti as a sleazy manager, Malin Akerman as a Rolling Stone reporter and Mary J, Blige as a strip club owner and you have a pretty high calibre group having some fun with the music of the Eighties. It'll be up to you to see if they built this city on rock'n'roll when Rock of Ages opens on June 15th, 2012.