Salt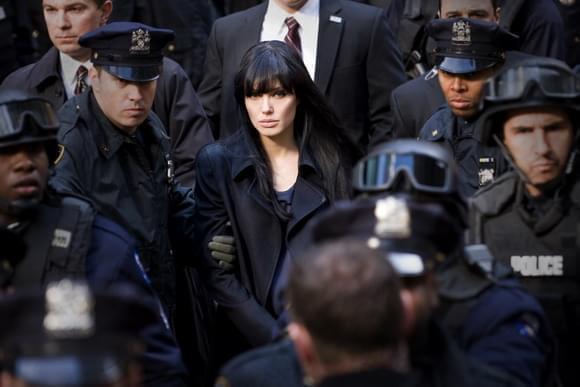 Photo: Andrew Schwartz ©2009 Columbia TriStar Marketing Group, Inc. All Rights Reserved.
Director(s): Phillip Noyce
Writer(s): Kurt Wimmer
Cast: Angelina Jolie, Liev Schreiber, Chiwetel Ejiofor, Daniel Olbrychski and Andre Braugher
Release Date(s)
Jul 23, 2010 - Wide


In Salt, Angelina Jolie plays Evelyn Salt, a CIA agent accused of being a Russian spy by a defector. Skilled at covert operations, Salt goes on the run, which only casts doubt on her motives.

The role played by Jolie was originally named Edwin Salt and was intended to be a Tom Cruise vehicle. When Cruise couldn't make his schedule work, Jolie — who once playfully said to Sony Pictures Co-Chairman Amy Pascal "I want to be Bond" — was chosen for the role and the script rewritten for the gender change.

"We had a really smart script we all collectively loved with an intriguing and complex character, so the idea of Angelina doing this suddenly felt like a no brainer," says producer Sunil Perkash. "She's an incredible actress who would bring such depth and realism to a very enigmatic character. Having that realism in an otherwise fantastical story was very important, and we were beyond thrilled when she responded to the role."

Salt is accused of being a Russian sleeper spy, someone inserted into the U.S. and trained to wait for decades for their orders. The question if such agents exist is a point for debate. Says Jolie, "Some think it's absolute nonsense and others believe that not only is it real, but sleeper agents have already been activated for certain cases. When we first approached the idea, we thought it was a bit of a fantasy, but as we found out more information, we discovered it was more real than we could have guessed. Truth really is stranger than fiction."

The timing of the film was perfect considering the recent headlines, where a group of people were arrested by U.S. authorities and found to be living under deep cover as spies for Russia.

"I have no doubt that sleeper spies are out there," says director Phillip Noyce. "It's been a part of spycraft since day one. Even before reading Kurt Wimmer's script, I was fascinated by the question of what might happen if long at rest sleeper spies were suddenly called to action."

Noyce had another motive for making the film. "The reason I wanted to make this movie is simple — after reading the script, it was a movie I wanted to see. I'd pay to see it," says Noyce. "When I first read Kurt's script, I was overwhelmed by the intoxicating combination of historical fact and popcorn fiction. It seemed like the perfect recipe for that rare film that both pleases the mind and tickles the senses, an edge-of-your-seat adventure to delight the grownup in every teenager and the child in every adult."

You can site on the edge of your seat too when Salt opens in North America on July 23rd, 2010.