Shutter Island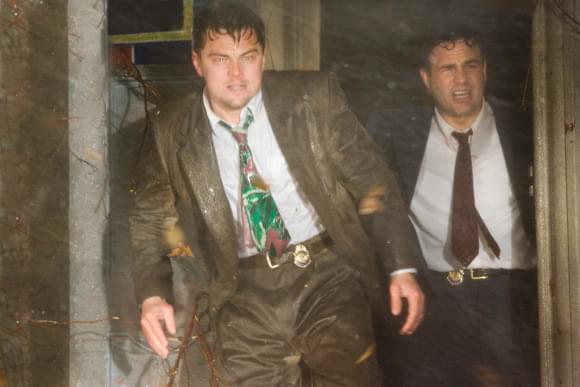 Photo: (c) 2010 Paramount Pictures
Director(s): Martin Scorsese
Writer(s): Laeta Kalogridis
Cast: Leonardo DiCaprio, Mark Ruffalo, Ben Kingsley, Michelle Williams, Emily Mortimer, Patricia Clarkson and Max von Sydow
Release Date(s)
Feb 19, 2010 - Wide


Legendary director Martin Scorsese once again teams up with Leonardo DiCaprio to bring us the thriller Shutter Island, based on the best-selling novel by Dennis Lehane.

It's the mid-Fifties, the height of the Cold War, and U.S. Marshall Teddy Daniels (DiCaprio) and his new partner Chuck Aule (Mark Ruffalo) must head to a fortress-like island housing a hospital for the criminally insane to investigate the strange disappearance of a multiple murderess. As the investigation progresses, they strip away layers of suspicions, conspiracies and secrets and realize that all is not what it seems.

Novelist Dennis Lehane, who also brought us Mystic River, combined pulp fiction stylings and Edgar Allan Poe-style horror to create Shutter Island, which was one of the best sellers of 2003. Producer Bradley J. Fischer was instantly drawn to the material. "I'd been a big fan of Dennis Lehane, yet I wasn't prepared for this novel," says Fischer. "It's a thriller and a Gothic mystery, but there is also much more to it because it has so much depth and deals with serious moral issues. The dense, atmospheric plot features a series of twists and turns that leaves you reeling and is quite mind-blowing."

Fischer brought in screenwriter Laeta Kalogridis for the adaptation. The writer found herself exploring the horrors of insane asylums and the history of pre-frontal-lobe lobotomies. "Laeta was as stunned as I was by the story," adds Fischer. "She saw that the narrative has all these different threads and layers that needed to be balanced —- not an easy adaptation —- but she carefully explored different directions for the characters and ways to bring in the flashbacks. We soon had a screenplay that Mike Medavoy and I were very happy with."

The producers thought getting Scorsese was a long shot, but as luck would have it he was in the middle of narrating a documentary on the man behind many of RKO's classic horrors of the 1940's, Val Lewton, and the project seemed to be a natural fit to the mood he was in.

"Marty was attracted to the idea of taking on a Gothic horror tale that's shrouded in shadow and mystery," Fischer says. "He jumped on the idea and his excitement was enormous from the get-go."

"This is the type of picture I like to watch, the kind of story I like to read," Scorsese says. "Over the years, I think I've stayed away from certain kinds of pictures that emulate the style that I find nurturing in a way, but these are the kinds of films I go back to and view repeatedly. I've always been drawn to this sort of story. What's interesting to me is how the story keeps changing, and the reality of what's happening keeps changing, and how up until the very final scene, it's all about how the truth is perceived."

Scorsese set the mood for the cast and crew by screening various film noir and psychological thrillers, from the classic to the obscure. One film that he felt was important for them to see was Titicut Follies, a 1967 film that showed the horrors of insane asylums during that period and actually led to class action suits that changed the way mental institutions in the U.S. were run.

Scorsese and the producers had one actor in mind to play the lead U.S. Marshall: Leonardo DiCaprio. "Having worked with Leo on Gangs of New York, The Aviator and The Departed, I thought immediately that he should do this," says the Oscar-winning director. "We have a way of working together now and I had faith and trust in him as an artist to achieve the many psychological and emotional states that Teddy has to reach, and to transform throughout. Have I seen him do this before? Not to this level, I think. As he gets older, he goes deeper and deeper."

DiCaprio loved the script. "A lot of things about this character appealed to me," he explains. "Teddy comes to Shutter Island devoted to solving a mystery and to uncover what is really going on, but he has his own innermost agenda and secrets. He's in a situation where there's a lot more to his journey than there at first appears to be. One of the great things about the story is that it's constantly jarring you. It works on so many different levels; it's like a giant layer cake."

You can share a slice of this thriller with Leo when Shutter Island opens in North America on February 19th, 2010.