Side Effects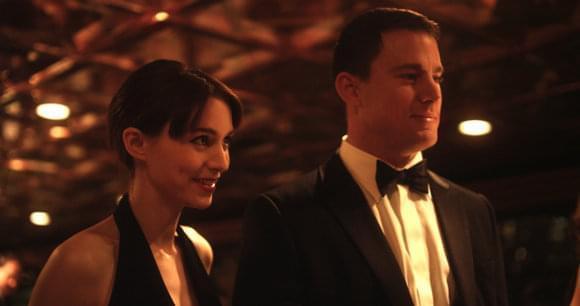 Photo: eOne Films
Director(s): Steven Soderbergh
Writer(s): Scott Z. Burns
Cast: Jude Law, Rooney Mara, Catherine Zeta-Jones and Channing Tatum
Release Date(s)
Feb 8, 2013 - Wide


In Side Effects, Oscar-winning director Steven Soderbergh tells the tale how a new anxiety drug tears apart marriages and lives as well as the career of a psychiatrist. The film stars Jude Law, Rooney Mara, Catherine Zeta-Jones and Channing Tatum.

Screenwriter Scott Z. Burns was working on the medical drama Wonderland over ten years ago and was doing some research at Bellevue Hospital that gave him insights into mental illnesses of those with a criminal past.

"I wanted to write a noir-style thriller that took the audience in and spun it around, like Double Indemnity or Body Heat, set in the world of psychopharmacology," says Burns. "I was inspired by films that involve crafty, clever scams, set against the society the audience is really living in. People seem to have stopped making those, but I have always loved the genre." Burns was aided in his writing by Dr. Sasha Bardey, who was then Deputy Director of Forensic Psychiatry for Bellevue Hospital. Bardey helped Burns with the story and says that "It looks at the idea of where reality ends and mental illness begins. You don't know if things are what they appear to be. In that sense, it's got a Hitchcockian feel to it. And the ending is fantastic, a great lesson and a lot of fun."

Their work uncovered how Side Effects can create criminal behaviour in some patients and even some stories of doctors knowing how their patient might be affected and using that to their advantage. Says Burns, "There was a story in the news about a psychiatrist who tried to hire one of his patients, a convicted criminal, to kill his mistress, When the patient went to the police, they didn't believe him because he's obviously a crazy person. Our story is completely different than that one, but it's full of plot twists and turns that have you constantly questioning what actually happened and who is telling the truth."

Burns worked again with his frequent collaborators, producer Lorenzo di Bonaventura and director Steven Soderbergh. "I loved the idea of making an authentic thriller," says di Bonaventura. "Hollywood has sort of abandoned the genre, so this is somewhat different in the marketplace. We developed it together. Scott wrote I don't know how many drafts, but he always stayed true to his original vision. It was a long road, but a fun one."

Soderbergh liked the project too. "Scott is very adept at identifying interesting issues and wrapping them in a commercial skin," Soderbergh says. "I like movies that try to do more than one thing at a time. Like Contagion, Side Effects can be described as a thriller, but both have an undercurrent of reality that reflects the contemporary world. If you can do that gracefully, the audience always appreciates it."

Is Side Effects the right prescription for your movie night? Check it out when it opens on Februray 8th, 2013.