Spider-Man 2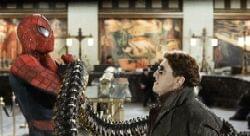 Photo: ©2004 Columbia TriStar Pictures. All rights reserved.
Director(s): Sam Raimi
Writer(s): Alvin Sargent
Cast: Tobey Maguire, Dylan Baker, Daniel Gillies, Donna Murphy, J.K. Simmons, Rosemary Harris, Alfred Molina, James Franco, Kirsten Dunst and Bill Nunn
Release Date(s)
Jun 30, 2004 - Wide


In Sam Raimi's Spider-Man 2, Spider-Man fights not only a new adversary but also struggles with the relationships he holds dear versus the responsibility to justice his powers bring him.

Peter Parker (Tobey Maguire) is still living a dual life: one moment he's a college student with pizza delivery and newspaper photography jobs, the next he's a web-slinging superhero, Spider-Man, fighting against crime and injustice. The responsibility he feels towards his alter ego starts to affect the things around him like his schoolwork and, more importantly, the yearning that he still feels for Mary Jane (Kirsten Dunst). His best friend, Harry Osborn (James Franco), feels increasingly betrayed by the access photographer Parker has to superhero Spider-Man: he blames his father's death on the web-slinger. When an accident turns brilliant scientist Otto Octavius (Alfred Molina) into multi-tentacled villain "Doc Ock", Peter must decided whether to accept his fate and stop the madman.

Director Sam Raimi was elated by the fact that audiences loved the first film. Raimi says, "It was truly gratifying and even a bit overwhelming to witness how strongly moviegoers around the world responded to Spider-Man. As a filmmaker, I always want people to really enjoy my movies, and on that level, Spider-Man exceeded my expectations. It was a true testament to the many artistic contributors on the film – both behind and in front of the camera – who worked so long and so hard on the film, especially the dedicated talents at Imageworks … exceptional work from everyone involved. They all did themselves proud, giving the audience a truly memorable experience."

Spider-Man's co-creator, comic book legend Stan Lee, understands the audience's attraction. "The thing that sets Spider-Man apart from other movies with great technology and action, is how much attention was given to the characterization and personal relationships," says Lee. "The action, the great set-pieces, that's a given. But delving into Peter Parker's problems in the way they did, truly elevated the film." Raimi took the audience's desire for a great story to drive the action seriously. "For the kids who come to see it, Spider-Man is their hero. So while the job of making this movie is to provide entertainment, it is also to create a story that shows them a moral character, someone who has to make tough choices and the right decisions in order to continue to be worthy of their admiration." He feels the story they chose does just that, adding, "This Spider-Man is about choices – but not in a 'message movie' kind of way. It shows us how we can all make choices and, like any emotionally satisfying story, it shows us the way, it shows us what's possible."

Spider-Man's offscreen alter ego, Tobey Maguire, believes that people can identify with the internal struggle Peter Parker faces. "The theme 'with great power comes great responsibility' is never lost on Peter. It's difficult to be a young man and have to sacrifice as much as he has – presumably for the greater good – and to neglect his personal desires. The struggle continues here and it's quite complicated, because Peter's searching desperately for a way to achieve some balance in his life."

The choices he has to make includes balancing his Spider-Man responsibilities against the love he still feels for Mary Jane, a balancing act he's not been successful at. Kirsten Dunst, who plays Mary Jane, says, "In this film, Peter is off in his own world and not a reliable presence in M.J.'s life. She still loves him a great deal, so it has become painful for her to be around him. Though they've both done a lot of growing up in the past two years, at the same time, they've drifted apart."

This alienation is also reflected in his friendship with Harry Osborn, who has become consumed with avenging his father's death.

It's also fitting that the internal struggle is also present in Spider-Man's new villain. Producer Laura Ziskin notes that Molina is the perfect actor to play this villain.

"Alfred has an immense talent, and he brings a wealth of experience and humanity to this role," says Ziskin. "He perfectly captures the character's duality. Otto Octavius is a man who has dreams, desires and flaws. When he gets carried away in the service of something he feels is vital to the betterment of mankind, his hubris brings him down. 'Doc Ock' is not as much an alter ego as the darker side of Otto Ocatvius emerging. That makes for a very credible – and terrifying – villain."

Spider-Man 2 opens June 30th, 2004.