Swiss Army Man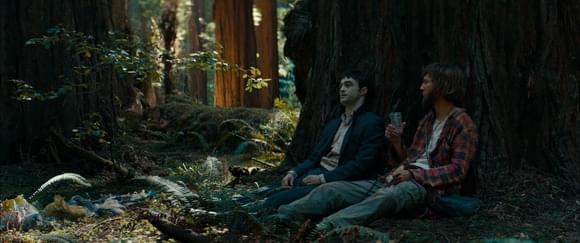 Photo: d films
Director(s): Dan Kwan and Daniel Scheinert
Writer(s): Dan Kwan and Daniel Scheinert
Cast: Paul Dano, Daniel Radcliffe and Mary Elizabeth Winstead
Release Date(s)
Jun 24, 2016 - Wide
Read our review.
Swiss Army Man, the moving and funny story of Hank and his deceased buddy Manny, comes to us from the minds of the writing-directing duo of Daniel Scheinert and Daniel Kwan, who are know collectively as DANIELS. The pair, who also brought us the award-winning DJ Snake, Lil Jon video "Turn Down for What", won the directing prize for Swiss Army Man at the 2016 edition of the Sundance Film Festival.
The pair originally envisioned the production as a short. "Because our headspace at the time was in the short form, and we had limited resources, we came up with the idea of a man stumbling upon a dead body that keeps farting," says Kwan. They soon realized that the story was expanding like Manny's gas. Says Scheinert, "Both of us agreed it was stupid and pointless as a short film because there wasn't enough substance there. We decided the only way we could bring the image to life was in a feature where we could give it that substance." He adds, "We like to knock our audience around with stuff they don't expect because everyone is so media-saturated now. They go in with their walls up and we're there to tear down those walls." According to Kwan, "Deep down we are very earnest storytellers — we love when we watch something and it breaks our hearts. At the same time, we're terrified of the emotional shit, so we bury it in absurdity and the things we love."
You can see how their minds work when Swiss Army Man opens in various markets on June 24th, 2016.
Read our review.