The Adventures of Tintin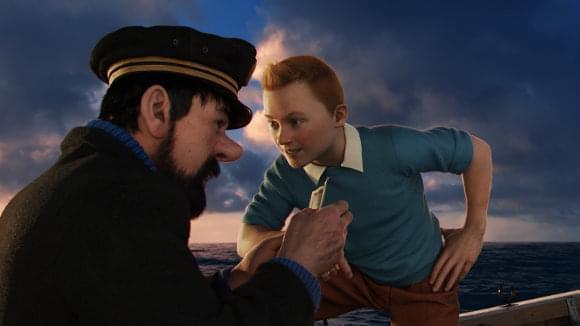 Photo: (c)2011 Paramount Pictures
Director(s): Steven Spielberg
Writer(s): Steven Moffat, Edgar Wright and Joe Cornish
Cast: Jamie Bell, Andy Serkis, Daniel Craig, Nick Frost, Simon Pegg, Toby Jones, Mackenzie Crook, Daniel Mays, Gad Elmaleh and Joe Starr
Release Date(s)
Dec 21, 2011 - Wide


The graphic novel adventures of the intrepid reporter Tintin have captured the imagination of readers for decades. Written and drawn by Georges Remi under the pen name Hergé, Tintin's exploits have been translated into more than 80 languages and sold over 350 million copies.

Legendary director Steven Spielberg saw the potential for translating the stories onto the big screen.

"Tintin is an eager reporter who chases fragments of clues that suddenly blow up into these amazing, globe-trotting adventures," Spielberg describes. "What makes him so intriguing is his relentless pursuit of the truth, although that always leads him down some treacherous paths. It often seems he's gotten himself into terrible trouble, but somehow, he finds a way out. From the first reading, I knew that Tintin and I were destined for some kind of collaboration."

Spielberg contacted Hergé back in 1983 and the artist was eager to work with the filmmaker. Sadly, he died before the two could collaborate, but his widow knew of his wishes and granted the film rights to him.

Fellow director Peter Jackson, best known for the Lord of the Rings series, grew up reading Tintin. "When you're young, you can easily imagine yourself going on these adventures that Tintin gets himself into," says Jackson. "They tap into that fundamental sense of adventure we all have."

Spielberg saw in Jackson the producer he needed to collaborate with to honour the legacy. Says Spielberg, "The most important thing was to honour Hergé and get as close to his very unique sense of palette and portraiture as possible. Every single panel of his told a story in cinematic terms. There was kinetic energy in every pose and action, and it was almost as if he was trying to squeeze 24 frames into a single frame, and succeeding. That was, I think, the genius of Hergé. Each of his stories had the essence of a movie — and now we could be true to that."

Jackson agreed that Spielberg was the right director for the job because of one very important reason. "Steven really is quite similar to the Tintin character," says Jackson. "He's young at heart. He's very curious. He has a great love of adventure, and his sense of humour pretty much matches what Hergé brought to Tintin. It's a perfect match."

The team of Spielberg, Jackson and screenwriters Steven Moffat and writing team Edgar Wright & Joe Cornish worked hard to bring Tintin to the screen. Spielberg says the result is "part-mystery, part-detective story, as well as a pure unapologetic adventure, all built around a tremendous story of friendship, loyalty and belief between Captain Haddock and Tintin."

You can join in on the fun when The Adventures of Tintin opens in North America on December 21, 2011.