The Amazing Spider-Man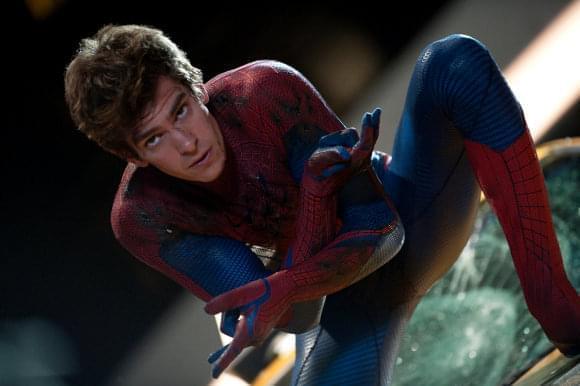 Photo: ©2012 Columbia Pictures
Director(s): Marc Webb
Writer(s): James Vanderbilt, Alvin Sargent and Steve Kloves
Cast: Andrew Garfield, Emma Stone, Rhys Ifans, Denis Leary, Martin Sheen, Sally Field, Irrfan Khan, Campbell Scott, Embeth Davidtz and Chris Zylka
Sam Raimi directed three Spider-Man films from 2002 to 2007. Work had begun on a fourth installment of the franchise, but when multiple writers tried to come up with a story the studio liked and when Raimi said said he could not make the film's expected 2011 release date with creative integrity, Sony decided to reboot the franchise with a new director and cast. Sam Raimi and Tobey Maguire were out and Marc Webb and Andrew Garfield were in for The Amazing Spider-Man.
This was not a sequel with new stars, but a rewind right back to the origin of the web-slinging superhero. "There are a lot of things in the Spider-Man canon that haven't been explored cinematically," says Webb "The loss of Peter's parents launches Peter on his journey. I was curious about the emotional consequence of that tragic event — ultimately, this is a story about a kid who goes out looking for a father and finds himself. Then, of course, we have the Gwen Stacy saga — whether you're familiar with the comics or not, it's an extraordinary story. And, of course, there's the Lizard, one of my favorite villains in comics. All of that gave us a lot to work with."
Producer Matt Tolmach, who oversaw the previous series, believes there are untapped veins in the origin story. "For this film, we talked a lot about Peter Parker, a boy who lost his parents at a very young age — and lost them in a way that's still a mystery to him," says Tolmach. "It leaves him with a lot of formative questions — Where am I from? Who am I? Why did my parents leave? Why did this happen? Who am I going to become? These are all the primal questions that face our hero. This angle had not been heavily explored, yet it's so critical to who Peter Parker is — this is the essence of a young man's journey. So we were incredibly excited to go down this road with the story and these characters."
Actor Andrew Garfield had been a fan of Spider-Man for years. "The character of Spider-Man has meant a great deal to me since I was a child; my attraction to the character began early," says the actor. "I found hope in Peter Parker's struggles and the trials he went through week in and week out in the comics, and I connected with that. I found it fascinating; there was something very real in the way Stan Lee wrote him and created him with Steve Ditko."
Emma Stone was attracted to the reality of the relationship between Peter Parker and Gwen Stacy. "Marc's biggest goal was working out that relationship," she says. "We're operating in a superhero universe, but that relationship has to feel grounded and real. I think the reason that so many fans of the comic books feel so protective of Gwen — or Mary Jane — is that those relationships did feel real and did feel grounded. As actors, it's nice to have that material to build from — it already feels genuine."
Even though he was playing a man who turns into the Lizard, Rhys Ifans saw the humanity in the project as well. "To me, the thing that sets the Spider-Man villains apart from other comic book villains is that they're human, and real, and flawed, as much as Peter Parker is. Particularly with Dr. Curt Connors, what makes him a more emotional presence in Peter's life is that he was very close to Peter's father. That makes Peter's relationship with him a very complex and emotional one."
How does the new version do at balancing heart with action? Find out when The Amazing Spider-Man swings into theatres on July 3rd, 2012.
Read our review.