The Dilemma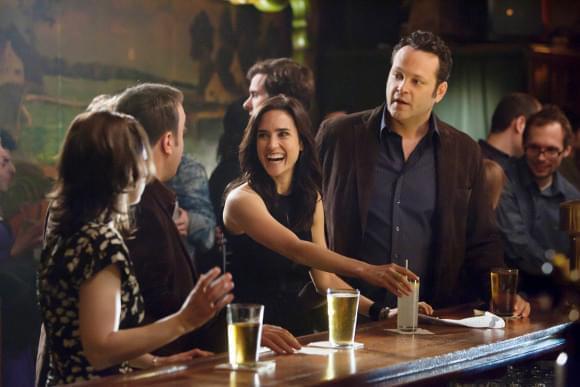 Photo: ©2011 Imagine Entertainment and Universal Pictures
Director(s): Ron Howard
Writer(s): Allan Loeb
Cast: Vince Vaughn, Kevin James, Jennifer Connelly, Winona Ryder, Channing Tatum and Queen Latifah
Release Date(s)
Jan 14, 2011 - Wide


Ron Howard's new comedy, The Dilemma, tells the story of a man who discovers that what you don't say to a friend is just as important as what you do. Howard and producer Brian Grazer have assembled a cat that features the talents of Vince Vaughn, Kevin James, Jennifer Connelly, Winona Ryder, Channing Tatum and Queen Latifah.

The story follows a couple of lifelong pals whose company is facing the biggest deal of its history. When Ronny (Vaughn) discovers that his friend Nick (James) has a wayward wife (Ryder) he decides to do a little investigative work before telling his friend the news. The investigation causes strife with Ronny's girlfriend (Connelly) and he also discovers his pal has some secrets of his own.

Grazer had posed the concept to his production partner Howard over dinner in Rome and a subsequent meeting with Vaughn found another interested party.

"When I met with Brian, what I connected to was the idea of how you get the information to your friend without destroying him&ldots;and in the process losing him as a friend," says Vaughn. "For me, it wasn't about whether I should tell him or not. It was about watching someone burdened with the knowledge of what's going on and the struggle to figure out how and when to tell him."

Grazer worked on the story concept with Vaughn, believing the actor's comedy has a unique way of delivering life's bumps with laughs. "Vince has this everyman quality that women love and guys aspire to," explains Grazer. "Whether one of his characters is telling you he's considering breaking up with his longtime girlfriend or he's struggling to balance being a dad and a husband, he allows us to explore the rough patches in our lives in funny ways. Through Vince, we see a heightened comic reality of our own lives. I've met very few actors who have that ability."

The pair then handed their story off to screenwriter Allan Loeb (Wall Street: Money Never Sleeps, 21 and The Switch), a move director Ron Howard backed by jumping on board. "I knew that Brian and Vince had brought on Allan Loeb, who's a terrific screenwriter, so it wasn't a hard decision," says Howard. "Allan is a strong, multidimensional storyteller. He doesn't write to genre, but instead thinks of interesting cause-and-effect situations, and he's able to sort those out in ways that are concise and entertaining."

The results of their work together can be seen when The Dilemma opens on January 14th, 2011.