The Pianist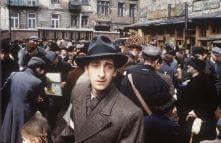 Photo: The Pianist ©2002 Focus Features
Director(s): Roman Polanski
Writer(s): Ronald Harwood
Cast: Adrien Brody, Thomas Kretschmann, Frank Finlay, Maureen Lipman, Emilia Fox, Ed Stoppard, Julia Rayner and Jessica Kate Meyer
Release Date(s)
Dec 27, 2002 - Limited


"__The Pianist is a testimony to the power of music, the will to live, and the courage to stand against evil." – director Roman Polanski__

Roman Polanski's The Pianist was adapted by U.K. playwright/screenwriter Ronald Harwood from the autobiography of Wladyslaw Szpilman, a Polish Jew who detailed his survival during World War II. Szpilman, a celebrated composer and pianist, played the last live music heard over Polish radio airwaves before Nazi artillery hit.

Szpilman eluded deportation and struggled to stay alive in the Warsaw Ghetto. The story is near to director Roman Polanski, who himself escaped the Cracow Ghetto at the age of 7, through a hole in a barbed-wire fence. The Pianist was Polanski's first film shot in Poland since 1962's Nóz w Wodzie.

The Pianist stars Adrien Brody, best known for his work in films like Steven Soderbergh's King of the Hill, Barry Levinson's Liberty Heights and Spike Lee's Summer of Sam as well as many indie productions. When looking for an actor to play Szpilman, Polanski said, "I wasn't looking for a physical resemblance. I wanted a young actor who could slip into the skin of the character as I imagined him. It was important that he not be a household name. As the film was to be shot in English, we needed someone who spoke the language fluently. We organized a casting call in London – "no experience necessary." 1400 people showed up. After the auditions, we realized it would be difficult to find someone with absolutely no experience, so we broadened our search to professional actors. I didn't find anyone in Britain, so we extended our search to the United States. When I saw some of Adrien Brody's work, I didn't hesitate: he was The Pianist."

Like many of the cities hardest hit by WWII, there wasn't much left of the Warsaw of the 1940s. The team of filmmakers had to recreate the Warsaw of the period by using a combination of modern technology and film craftsmanship. According to Polanksi, "Unfortunately, nothing remains of that period. Warsaw was destroyed, literally flattened by the Nazis. There is however a district named Praga, on the right bank of the river Vistula, which was not completely destroyed. I lived through the bombing of Warsaw. I stayed there for a while and remember the city looking like today's Praga district: gray streets, heavy traffic, buildings from the turn of the century…That's why we constructed our sets there. In addition, technical progress allows us to recreate things long gone. I'm thinking of computers, so conspicuous in many movies, but hopefully not in ours."

The Pianist has managed to connect with critics and audiences alike. After winning the coveted Palme d'Or (Best Picture) award at the 2002 Cannes International Film Festival, The Pianist went on to garner several Golden Globe and Academy Award nominations as well as winning Best Picture and Best Director at Britain's BAFTAs.