The Twilight Saga: New Moon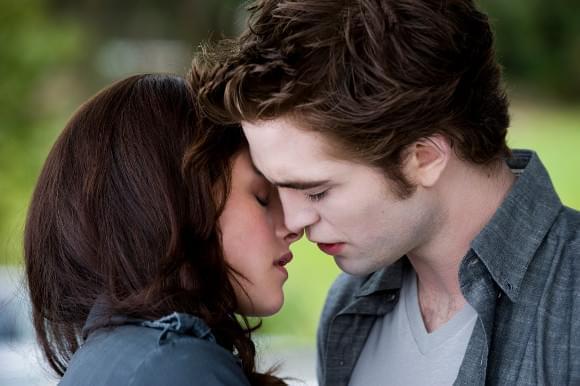 Photo: ©2009 Summit Entertainment
Director(s): Chris Weitz
Writer(s): Melissa Rosenberg
Cast: Kristen Stewart, Robert Pattinson, Taylor Lautner, Ashley Greene, Rachelle Lefevre, Billy Burke, Peter Facinelli, Nikki Reed, Kellan Lutz, Jackson Rathbone, Anna Kendrick, Dakota Fanning and Michael Sheen
Release Date(s)
Nov 20, 2009 - Wide


To say fans have been eagerly anticipating The Twilight Saga: New Moon is like saying that a drowning man anticipates breathing. The second installment of the series sees the vampire Edward (Robert Pattinson) leaving his love Bella (Kristen Stewart) in an effort to protect her. She finds solace with old friend Jacob Black (Taylor Lautner), whose family, the Quileute tribe, holds a secret of their own. Of course this burgeoning love triangle has issues of its own accoridng to producer Wyck Godfrey.

"Bella realizes she is living in what seems to be a fantasy world where vampires and werewolves are real," he says. "Just when she has made a friend who makes her feel alive again after Edward has disappeared, she finds out he's different too. And since the only reason these werewolves exist is because of the existence of vampires, Jacob wouldn't exist as a werewolf if not for Edward. That's the primary conflict between Jacob and Edward, and Bella is caught in between as a human."

Director Chris Weitz was initially unaware of the books. "I read the books," the director says. "Then I went to see the first film with an audience, and I was so jazzed by the extraordinarily deep emotional reaction I saw. When I watch a film, I look for an overwhelming sense of being immersed in a universe, and this was a chance to do that. It's a bit different from what I've done before, but it also draws on some of my experience."

Actor Robert Pattinson was impressed by the preparation done by Weitz who regularly consulted with the series' author to make sure he was being true to the source. "Twilight had a happy ending," the actor says. "Bella and Edward were together and they'd vanquished their enemies. In The Twilight Saga: New Moon, reality sets in. They are dealing with the progression of their relationship and commitment to each other, as well as the very real threats coming out of it. When Edward leaves Bella, he basically takes her life from her, and he kills himself by being away from her, because they've become so dependent on each other. Because Kristen and I have played the parts before, we have a very specific idea of how we think the characters develop throughout the whole series. Chris was very understanding of that. But he also came prepared with a lot of great ideas and he had a lot of research to back them up."

With the huge success of the first movie and Jacob's expanded role in the second story, author Stephanie Meyer saw fans on the internet dividing into two teams. "Taylor does a lot for Team Jacob," says Meyer. "The whole Team Jacob/Team Edward thing is based on the type of boy that an individual is interested in. If I were for a team, I'd say I'd probably be Team Jacob. That's more my style. If you believe that you can develop a deep friendship and then all of a sudden fall in love later on, then you should be Team Jacob. But if you believe in love at first sight and seeing that mysterious man in the corner, then all right, join Team Edward."

No matter which team you're rooting for, The Twilight Saga: New Moon opens in North America on November 20th, 2009.