The Wild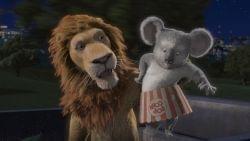 Photo: ©2006 Walt Disney Pictures
Director(s): Steve "Spaz" Williams
Writer(s): Ed Decter, John J. Strauss, Mark Gibson and Philip Halprin
Cast: Kiefer Sutherland, Jim Belushi, Eddie Izzard, Janeane Garofalo, William Shatner, Richard Kind and Greg Cipes
Release Date(s)
Apr 14, 2006 - Wide


When one of their fellow animals accidentally gets shipped back to nature, a ragtag group of New York Zoo animals embark on a mission to get him back in Disney's The Wild. The computer-animated film features a stellar cast of voice talents including Kiefer Sutherland, Greg Cipes, Jim Belushi, Richard Kind, William Shatner and Eddie Izzard.

The film was animated at the new C.O.R.E. Digital Animation facility in Toronto. Producer Clint Goldman was especially pleased with the film's look. Says Goldman, "We wanted our film to have a different look from the other CG films that are out there. We wanted it to have a pseudo-realistic quality, but still be able to have the poetic license to break the boundaries and add lots of fantasy. In our film, characters' eyes bug out and there's a lot of squash and stretch. They get compressed and they can expand. Our animals can drive boats and do other things that animals wouldn't normally be able to do. And we do all this in a world that seems real. It allows us, as filmmakers, to come up with funny situations to immerse our characters in and to make a film that's fun to watch."

In computer-animated films, a lot of facts are tossed about, like the fact that Samson the lion has six million individually rendered hairs. But actor Kiefer Sutherland knows that those facts mean nothing if the audience can't connect with the characters. The 24 star says that, "One of the really beautiful things about this character is that he's a dad. Everything to do with the character had to do with his love for his son, so that's a very straightforward and easy place to come from, and it's been a real pleasure to do the voice for him. I have wonderful children of my own, and you just imagine the situation you're in and how you would react with your own child. On so many levels, I think The Wild is incredibly funny and touching. It's one of those few opportunities that I have as an actor, to be able to take a young person to a movie and show them what I do. It's also a fantastic opportunity for a parent and child to have a really wonderful time together. It's meaningful in a way that will have you talking after the film."

The Wild opens in North America on April 14th, 2006.