Toy Story 3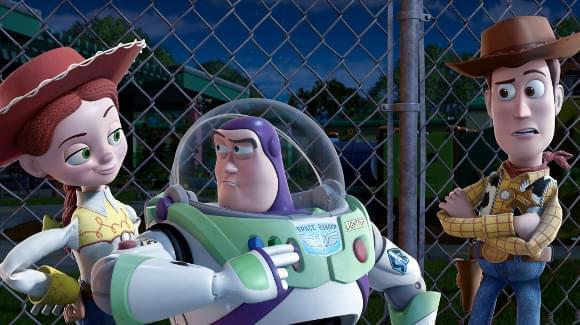 Photo: (c) Disney/Pixar
Director(s): Lee Unkrich
Writer(s): Michael Arndt
Cast: Tom Hanks, Tim Allen, Joan Cusack, Ned Beatty, Don Rickles, Michael Keaton, Wallace Shawn, John Ratzenberger, Estelle Harris and John Morris
Release Date(s)
Jun 18, 2010 - Wide


Woody, Buzz, and the rest of Andy's toys are back this summer as Toy Story 3 hits the cinemas. Andy's heading off to college and his toys now find themselves in a day care. Not wanting to get destroyed by the rambunctious tykes, the gang prepares to make the great escape.

Director Lee Unkrich says the story is about change. "It's about embracing transitions in life. It's about characters being faced with major changes and how they deal with them. Woody and the other toys are facing the monumental fact that Andy has outgrown them. Andy is facing becoming an adult and heading off to college. And Andy's mom is facing the fact that her son has grown up and is heading out into the world. We begin our story at pivotal moments in the characters' lives."

Producer John Lasseter, who helmed the first two Toy Story flicks, says the story also reflects the experiences of the filmmakers. "For me personally, I was able to tap into the real emotion of taking my son to college. After helping him set up his dorm room, my wife and I were ready to return home, and we thought he'd walk away and go back to his room. Instead, he stood there and wouldn't leave. As we drove away, he just waved, and I broke down in tears. It was an immensely powerful emotion. You're with someone since birth, and then all of a sudden they're going away. The timing between Toy Story 2 and Toy Story 3 was perfect for letting Andy — and our own life situations — grow up."

The filmmakers headed off to a retreat where they watched the first two films. They wanted to immerse themselves in that world again in order to create a second sequel worthy of continuing the story. Unkrich says "That's when I had an epiphany: We needed the three Toy Story movies to feel like part of one grand story. That notion became the driving force for us in creating Toy Story 3." He adds, "We felt optimistic because although crafting a worthy sequel was a daunting task, we were the same creative team that had made the first two films. On the second day of the retreat, we came up with the idea of Andy growing up. We also came up with the idea that Woody and the other toys would end up at day care, as well as the concept of Buzz getting switched into demo mode. Andrew drafted a treatment that got everyone excited. It was at that point that Michael Arndt and I started working on the story in earnest."

Tom Hanks, who once again voices the cowboy toy, Woody, says that "The fact that Pixar can come up with a third Toy Story movie and have it be completely fresh and real and unique shows just how brilliant they are. There's this great logic that John Lasseter and Lee [Unkrich] and Darla [K. Anderson] and all the writers adhere to that makes moviegoers just kind of relax and let themselves be transported to this magical place and time. When you can do that with a movie, it's amazing. With Toy Story 3, you come back to a lovely, familiar and happy place."

You can head back to that happy place too when Toy Story 3 opens in North America on June 18th, 2010.