When in Rome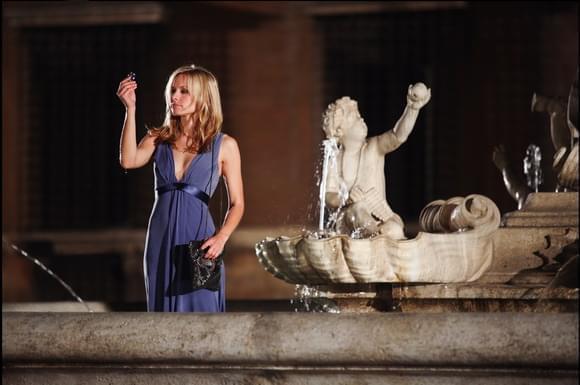 Photo: © Touchstone Pictures. All rights reserved.
Director(s): Mark Steven Johnson
Writer(s): David Diamond and David Weissman
Cast: Kristen Bell, Josh Duhamel, Anjelica Huston, Danny DeVito, Will Arnett, Jon Heder, Dax Shepard, Alexis Dziena, Kate Micucci and Peggy Lipton
Release Date(s)
Jan 29, 2010 - Wide
Read our review.
When in Rome stars Kristen Bell as Beth, a workaholic New Yorker who accidentally gains more suitors than she can handle when she takes five magic coins from a Roman fountain. While being pursued by a sausage king (Danny DeVito), a magician (Jon Heder), a painter (Will Arnett) and a male model (Dax Shepard), Beth must decide if the love between her and Nick (Josh Duhamel) is the real deal or some Italian magic.
Though she's surrounded by actors with serious comedic chops, Kristin Bell more than held her own according to director Mark Steven Johnson. "I just wanted to surround Kristen with the funniest people I could," says Johnson. "The script was originally written with Kristen as more of the straight man, reacting to all these funny guys, but she's so funny I kept giving her more to do — more physical comedy — because she really has the ability in a way I haven't seen in a long time."
The male lead, Josh Duhamel, may have matinee idol good looks, but producer Andrew Panay thinks he's a natural for comedy too. "One of Josh's greatest gifts is his ability to be physically funny. He was a college quarterback in real life, so he's very coordinated. But to watch him scramble, fall and run into things — it's absolutely, incredibly funny. And he's so natural."
New York's Guggenheim Museum is an important part of the cast as well. Not only is it where the workaholic Beth works, it's where she opens up to Nick about her romantic trepidations. According to the Guggenheim's managing director, Karen Meyerhoff. "There are a lot of things that were authentic about the script. One of my favorite scenes is a scene in which Beth the curator brings Nick into the museum at night, which is one of the things that is wonderful about working in museums — you have access to these spaces when there's no one else around. They come into the museum when all the lights are off and the moonlight is streaming in. It's very romantic. And she takes him to the galleries to show him one of her favorite pictures in the collection which is a portrait. She tells him the story about the woman in the portrait — Marie-Therese Walter — who, as a young girl of 17, had a clandestine relationship with the artist —Picasso. And she tells him that because it was a secret relationship the artist put the girl's initials into some of his paintings, hiding it. That's all true. Not only is the scene authentic, because we often do bring our close friends into the museum at night, but also the story is real. It's a wonderful moment. And she also reveals something about her own character, her reason for being so cynical about relationships, her affection for the Guggenheim, her passion for art."
Audiences can share in the romantic chase when When in Rome opens on January 29th, 2010.
Read our review.