Where the Wild Things Are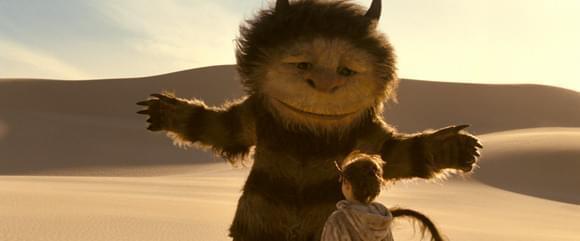 Photo: Photo courtesy of Warner Bros. Pictures
Director(s): Spike Jonze
Writer(s): Spike Jonze and Dave Eggers
Cast: Max Records, Catherine Keener, Mark Ruffalo, Lauren Ambrose, Chris Cooper, James Gandolfini, Catherine O'Hara and Forest Whitaker
Release Date(s)
Oct 16, 2009 - Wide


Where the Wild Things Are, based on the classic book by Maurice Sendak, tells the story of Max, a rambunctious and sensitive boy who feels misunderstood at home and escapes to Where the Wild Things Are. Crowned king by the creatures there, Max learns that ruling his kingdom is not so easy and his relationships there prove to be more complicated than he originally thought.

Director Spike Jonze says that, "I didn't set out to make a children's movie; I set out to make a movie about childhood. It's about what it's like to be eight or nine years old and trying to figure out the world, the people around you, and emotions that are sometimes unpredictable or confusing — which is really the challenge of negotiating relationships all your life. It's no different at that age."

Jonze says the book, which was first published in 1963 has an enduring appeal because "taps into genuine feelings that kids have and takes them seriously without pandering. Kids are given so much material that's not honest, so when they find a story like this it really gets their attention. I remember myself, at that age, being so eager to hear that other kids were going through the same things I was and having similar thoughts."

Twelve-year-old Max Records, who plays Max in the movie, agrees with his director. Said Records, "The book reflects what it's actually like to be a kid. It's a book that could not only be respected by kids but it really gets to the heart of everything you feel growing up and even beyond that."

Author Sendak felt his book was in good hands. "Spike immediately had his own point of view. I trusted him. I knew he had a vivid sense of what the book was about in his head, which was the same with me when I wrote it. He's given me a renewal of respect for young people." He was also glad that Jonze took the story and made it his own.

"Spike is an incredibly gifted young man and courageous," said Sendak. "He didn't do an homage to the book; he did something that belongs to him, which makes him a real filmmaker and a real artist. I love the movie. It's original. It has an entire emotional, spiritual, visual life which is as valid as the book. He's turned it into his Wild Things without giving up mine, in a brilliant, modern, fantastical way which takes nothing from my book but enhances and enriches it. They are two very different works of art and I like them both."

Where the Wild Things Are opens in North America on October 16th, 2009.