21 Jump Street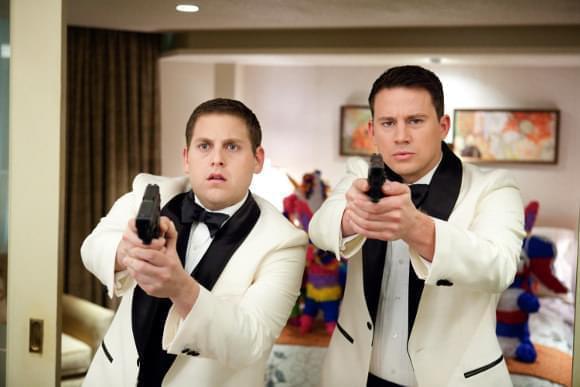 Photo: (c)2012 Sony Pictures
Director(s): Phil Lord and Christopher Miller
Writer(s): Michael Bacall
Cast: Jonah Hill, Channing Tatum, Brie Larson, Dave Franco, Rob Riggle, DeRay Davis, Ice Cube, Ellie Kemper and Chris Parnell
Reviewed by: Ian Evans on
Release Date(s)
Mar 16, 2012 - Wide


The action-comedy 21 Jump Street takes the late 80's Johnny Depp TV series and gives it an R-rated spin with Jonah Hill and Channing Tatum as the rookie cops who go undercover as high schoolers.

Jenko (Tatum) and Schmidt (Hill) were on opposite ends of the high school spectrum seven years ago — a jock and a nerd — but now they're rookie partners on the police force who together almost create one good cop. Jenko's got the brawn, while Schmidt is actually able to remember things like the Miranda rights.

The youthful looking pair get assigned to a squad of young looking cops headed by the angry Captain Dickson (Ice Cube) and get assigned to try and crack a ring selling a dangerous new street drug. An error in remembering their covers results in Hill becoming the popular kid and Tatum hanging with the nerds, a complete reversal of their younger years. They discover that bullies are frowned upon, and that the cool kids don't run track but hug trees, like Brie Larson's Molly or Dave Franco's Eric, the slacktivist who is also the school's dealer. In seven short years the high school world and rules Schmidt and Jenko knew has changed. As Jenko says, "I blame Glee."

The script, written by Scott Pilgrim vs. the World's Michael Bacall, and based on a story by Bacall and Hill, has its R-rated tongue planted firmly in cheek. Before assigning them to the Jump Street squad, their captain admits that the unit is some sort of recycled project from the Eighties as the higher-ups seem to have run out of ideas. But the squad, and changed values, does give the writers a chance to explore what would happen if you could do high school over again and the cover mix-up between Schmidt and Jenko gives the characters a chance to see how the other half lived without all the messiness of wishing wells and Freaky Friday body switching.

Hill and Tatum make a good team and while we're not surprised that Hill's character isn't as physically adept as his partner, it is nice to see that Tatum has comedic chops that do broaden his appeal to audiences other than screaming fans of his physique. Brie Larson is quietly sweet in a Zooey Deschanel on Valium sort of way and Dave Franco (brother of James) shows that laid-back and stoned might just be a family trait. The supporting cast includes The Daily Show's Rob Riggle, The Office's Ellie Kemper and Suburgatory's Chris Parnell, as well as a few well-placed cameos.

21 Jump Street is a raunchy comedy that's able to mix cars chases and gun battles with awkward prom moments and rhyming chemistry homework. They not only avoid detention, they get a A on the assignment.