22 Jump Street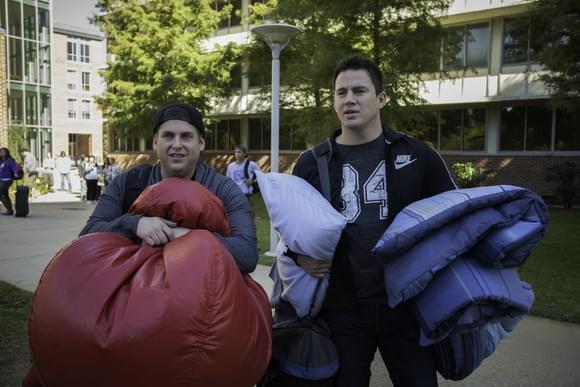 Photo: ©2014 Columbia Pictures
Director(s): Phil Lord and Christopher Miller
Writer(s): Michael Bacall, Oren Uziel and Rodney Rothman
Cast: Jonah Hill, Channing Tatum, Peter Stormare, Wyatt Russell, Amber Stevens, Jillian Bell, Ice Cube, Keith Lucas, Kenny Lucas and Nick Offerman
Reviewed by: Ian Evans on
Release Date(s)
Jun 13, 2014 - Wide


Jonah Hill and Channing Tatum head back to school once again in 22 Jump Street, the sequel to 2012's box office success 21 Jump Street. Hill and Tatum play Schmidt and Jenko, two undercover cops who busted a high school drug ring and now need to do the same thing at college. The film gleefully riffs on the fact that this is a sequel with a higher budget, with their police commanders frequently reminding them that this is basically the same case they solved last time but with a new setting. Their old undercover HQ was sold, so they cross the street to a new church located at 22 Jump Street, still under the angry watchful eye of Captain Dickson (Ice Cube).

When Schmidt and Jenko head into college, their co-dependent friendship and policing skills are immediately put to the test. Jenko is sought after by the football team and puts the investigation on the back-burner as he has a bromance with quarterback Zook (Wyatt Russell) while a dejected Schmidt seeks solace with a co-ed named Maya (Amber Stevens). As their partnership is tested, Jenko and Schmidt must still contend with a drug supplier called The Ghost (Peter Stormare) who threatens college life with a new designer drug called Whyphy.

Tatum and Hill get passing grades once again for their on-screen comedic chemistry. While they perfectly handle the slapstick and action scenes, they also have the lightness of touch to explore the feelings they experience as they begin to ponder if they still need to be in each other's lives both personally and professionally. They're a perfect comedic pairing, a Laurel and Hardy for raunchier comedies.

The pair are supported well by the rest of the cast, with a few real standouts. Ice Cube is given more room to amp up the crankiness of Captain Dickson, most audience members will fall for Amber Stevens and the real crime is probably the scene stealing done by Jillian Bell, whose deadpan harassment of Jonah Hill about the age of his appearance raises the laughs of every scene she's in. Nick Offerman also has a small role, but like a great spice, even a small amount sweetens the meal.

Directors Phil Lord and Christopher Miller know how to operate the gas and the brakes, giving us tight action scenes when they're called for and taking us in close and personal when the script calls for some feelings. Their action scenes have a great blend of pure action and slapstick comedy and Lord and Miller probably wouldn't be out of place directing a Buster Keaton or Harold Lloyd film back in the silent film days.

Another passing grade for Hill and Tatum. I guess they're off to grad school next, though the film's conclusion gives us a hilarious look at the next twenty or so installments.