After Earth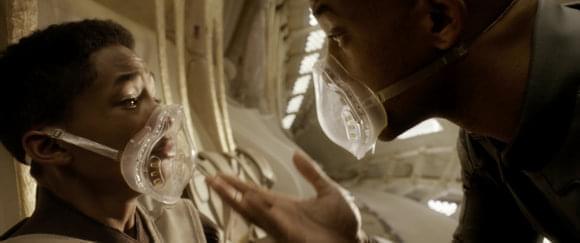 Photo: ©2013 Columbia Pictures
Director(s): M. Night Shyamalan
Writer(s): Gary Whitta and M. Night Shyamalan
Cast: Jaden Smith, Will Smith, Zoe Isabella Kravitz, Sophie Okonedo, Glenn Morshower and Kristofer Hivju
Reviewed by: Christine Lambert on
Release Date(s)
May 31, 2013 - Wide


Will Smith has been a charismatic presence on our movie screens, effortlessly bringing us along for the ride in a string of films filled with action, comedy and drama. He's charisma personified. And he's missing from After Earth.

The real star of After Earth is Jaden Smith, Will and Jada Pinkett Smith's 14-year-old son, who plays Will's son, Kitai, in the movie. Will plays Cypher Raige, a legendary leader of the United Rangers, the military force of Nova Prime, humanity's new home after abandoning Earth one thousand years ago,

Humans have been battling an alien race that can detect man's fear and Kitai is in boot camp trying to become a Ranger like his father. Kitai blames himself for his sister's death and feels unable to earn his brooding father's respect and approval. The father and son set off on a spacecraft transporting one of the fear-sucking aliens and along the way crash on the Earth they abandoned.

Apparently the timelines of evolution were thrown away, because in a mere thousand years (nothing in evolutionarily time) animals have turned into vicious human-destroying beasts, which is a bit strange on a planet that no longer has any humans. Cypher is injured and so Kitai must make a long trek through the jungle to reach the tail of the spacecraft in order to launch a rescue beacon. With dad immobilized, we get a lot of Will Smith commanding his teen son over the radio. The story basically takes one of the most animated performers out there and makes him the equivalent of a bed-ridden patient. But this patient also happens to spout a series of self-help lines like "Fear is not real; it is a product of the thoughts you create. Danger is very real, but fear is a choice ." He also instructs his son to be in the present moment a lot. It's almost as if someone left a copy of L. Ron Hubbard's Dianetics for the injured Ranger to read.

Okay, so yes, everyone is talking about the parallels to Scientology in this film. Man has to overcome fear, be in the present time, the fear-sucking alien probably is a psychiatrist and the volcano in the film is straight off the cover of Dianetics. The Smiths have always been coy about being Scientologists — they're "students of world religions" — but this film, whose original story was penned by Will himself, shares more of a bloodline with John Travolta's Battlefield Earth than it does with Men in Black or I Am Legend. The lines the older Smith recites are delivered in such a heavy-handed way that there were more than a few chuckles in the audience.

In a situation like this, it's sometimes up to the director to win us over with great shots and visual effects that will at least transport us to a different world. In this case however, the director is M. Night Shyamalan, the director who hit a home run with The Sixth Sense and, except for a couple of base hits, has been fouling them into the stands for several years now. Night, who co-wrote the screenplay with Gary Whitta, can also take blame for a story with glacial pacing. Considering this is a story about overcoming fear, the script also seems to lack any genuine sense of danger or tension.

Jaden Smith gets the weight of this film placed on his shoulders and sometimes comes off as a petulant brat rather than a wannabe Ranger. For a large portion of the film, Jaden is acting by himself and it's almost unfair to assess if he can carry a film like this when the film he is carrying is heavier than lead.

Humans abandoned the Earth when its environment became hostile to them, It will be interesting to see if they abandon After Earth in its opening weekend.