Aladdin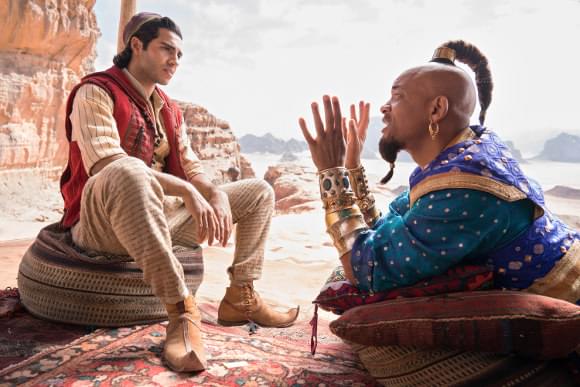 Photo: ©2018 Disney Enterprises Inc.
Director(s): Guy Ritchie
Writer(s): Guy Ritchie and John August
Cast: Will Smith, Mena Massoud, Naomi Scott, Marwan Kenzari, Billy Magnussen, Nasim Pedrad, Navid Negahban, Numan Acar and Robby Haynes
Reviewed by: Ian Evans on
Release Date(s)
May 23, 2019 - Wide


Disney has been dipping into their archives over the last few years and releasing live action remakes of their animated classics. Depending on the project, the results have been either "wow" or "why?" The latest example, Guy Ritchie's Aladdin, falls somewhere in-between.

The 1992 animated version was an instant classic due in no small part to the amazing vocal gymnastics of Robin Williams, who played Genie. Ritchie and co-screenwriter John August have based their story on that script, added in some elements from the Broadway musical, and added an additional romantic subplot. The story is pretty much what you remember. Charming thief Aladdin (Mena Massoud), whose fingers are as fast and nimble as his chaotic bazaar rooftop escapes, pals around the streets of Agrabah with his monkey Abu, stealing what the pair need to survive. They help a disguised Princess Jasmine (Naomi Scott), the free-spirited daughter of the sultan, escape the clutches of an angry merchant as she tries to be among the people her over-protective father (Navid Negahban) has hidden her away from. He falls for her but also falls into the clutches of the sultan's scheming second-in-command, Jafar (Marwan Kenzari), who sends him to retrieve a genie's lamp. The adventure doesn't go as planned and it's Aladdin who ends up rubbing the lamp and unleashing the all-powerful genie (Will Smith). Hijinks, romance and treachery ensue.

The person with the biggest curly-toed shoes to fill is Will Smith. Robin William's uncanny ability to do voices and keep up a mile-a-second river of free-association patter made the 1992 genie an unstoppable comic force. When Smith is all blue-toned and CGI-enhanced, he's in direct competition with Williams. Smith is a funny, charming and capable of being believably goofy. Smith and Ritchie don't attempt to have him go head-to-head with Williams and Smith is able to find his own rhythm for the role. When he takes on a more human form and works to school Aladdin, disguised as Prince Ali, in the ways of wooing, Smith shines and he and Massoud share a good chemistry. Let's not forget that Aladdin is a musical. As a singer, Will Smith is a great rapper, and he talk-sings through some of the more musical theatre parts of the original score that require belting or holding notes. Luckily, the updated score reworks some of the songs like "Prince Ali" to fit Smith's style better.

In the original film, Princess Jasmine is more in the background compared to the charisma and spirit of Aladdin, but here the tables are reversed. Massoud is charming, dances well, and has chemistry with Smith, but his spotlight is taken away by Naomi Scott's Jasmine. Her Princess believes that, as a woman, she should still be given the chance to one day rule the people and one of the new songs that original composer Alan Menken wrote with Benj Pasek and Justin Paul attests to the fact that she won't be "Speechless." Scott's Jasmine has wit, intelligence and a backbone. Here's hoping that one day she actually gives her people a representative democracy.

Marwan Kenzari's Jafar is more subdued and less, um, cartoonishly evil than the animated version. Unfortunately that makes him less memorable. Guy Ritchie's version of Jafar seems like he'd be more at home in one of the Brendan Fraser Mummy films than hanging out out in a musical with a talking parrot. Former SNL star Nasim Pedrad shines as Jasmine's handmaiden and confidante. She provides Jasmine with an outspoken sounding board and Smith's Genie with a sweet love interest. The film may be set in the past along the Silk Road, but Jasmine and Dalia would be at home as co-workers in a modern rom-com. I also have to give a shout out to Billy Magnussen who has a small role as a dim-witted foreign suitor of Jasmine.

The musical numbers are staged relatively well, with the big production number "Prince Ali" looking like it was ripped out of a 1950's MGM musical. The original tunes by Alan Menken, Howard Ashman and Tim Rice still soar and bring us into the adventure, comedy, and romance. The newer songs from Menken, Benj Pasek and Justin Paul are good but don't rise to the level of the original.

Ritchie and his production design team have done a good job bringing us into the environment. The bazaar scenes are full of action and gritty exteriors while the scenes where Genie gets to work his magic are colourful and over the top.

I enjoyed watching the film and think that families will see it as a fun outing, especially if they haven't seen the 1992 animated version. The 2019 Aladdin is good, but only time will tell if it's remembered as fondly as the animated original.