Beauty and the Beast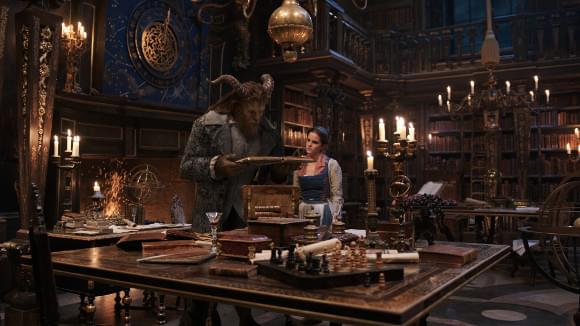 Photo: ©2016 Disney Enterprises inc. All Rights Reserved.
Director(s): Bill Condon
Writer(s): Stephen Chbosky and Evans Spiliotopoulos
Cast: Emma Watson, Dan Stevens, Luke Evans, Josh Gad, Kevin Kline, Hattie Morahan, Ewan McGregor, Ian McKellen, Emma Thompson, Nathan Mack, Audra McDonald, Stanley Tucci and Gugu Mbatha-Raw
Reviewed by: Ian Evans on
Release Date(s)
Mar 17, 2017 - Wide


When Disney released the animated Beauty and the Beast in 1991, it took the world by storm. It was a huge box office hit, critics and audiences loved it, and it earned the first Best Picture Oscar nomination for an animated film. The 2017 live-action version of that film has huge shoes to fill, but this Beast doesn't shy away from the challenge,

The titular Beast (Dan Stevens) was once a prince consumed by vanity and surface details. When he turns away a disguised enchantress, she warns him that "Beauty is found within" and turns the prince into a fearsome beast and his household staff into household items. She leaves behind one rose. If he can't find someone to love him for who he his before the last petal falls, he and his staff will never change back.

Meanwhile, in a small provincial French town, Belle (Emma Watson) may be beautiful but she's also looked down upon by her fellow villagers, who see her as odd for always reading and dreaming of a life better than theirs. She lives with her widower father, Maurice (Kevin Kline), a clockmaker who misses his wife everyday and spurns the advances of a narcissistic army captain, Gaston (Luke Evans), who probably only wants her because he wasn't worked out a way to marry himself. Gaston is aided in his quest by his loyal sidekick LeFou (Josh Gad), though it's pretty evident in this version of the film that LeFou wouldn't mind being more than Gaston's sidekick.

When Maurice goes missing in the woods, Belle goes looking for him, only to end up as a prisoner of the Beast. He may have captured Belle, but can he, with the help of his staff, capture her heart as well and reverse the curse?

Like its predecessor, this Beauty and the Beast is epic in scale and gorgeous to look at. From sweeping vistas and dark enchanted forests, to Belle's cluttered village and the Beast's Gothic castle, the cinematography, production design and visual effects teams have earned their pay and beyond. The CGI effects, that help bring to life Lumière the candlestick (Ewan McGregor) and his friends during the show-stopping "Be Our Guest", blend in effortlessly and allow us to accept Ian McKellen as a clock and Emma Thompson as a motherly kettle. The musical numbers will have you tapping your feet, whether they're being sung by Broadway legend Audra McDonald as a an operatic wardrobe or the Beast tackling one of the film's three new numbers "Evermore."

Beauty and the Beast, a feast for the eyes and ears, will make you laugh, will tug at your heart, and will probably make you sign up for ballroom lessons too. A worthy reimagining of its legendary predecessor, this Beauty and the Beast will cast a spell upon audiences for years to come.