Big Hero 6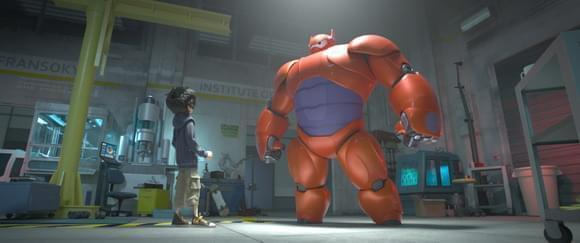 Photo: © 2014 Disney. All Rights Reserved.
Director(s): Don Hall and Chris Williams
Writer(s): Robert L. Baird, Daniel Gerson and Jordan Roberts
Cast: Scott Adsit, Ryan Potter, Daniel Henney, T.J. Miller, Jamie Chung, Damon Wayans Jr., Genesis Rodriguez, James Cromwell, Alan Tudyk and Maya Rudolph
Reviewed by: Ian Evans on
Release Date(s)
Nov 7, 2014 - Wide


Big Hero 6, the melding of Marvel Comics characters with Disney family sensibilities is a dream for merchandisers but luckily for us it's also a fun-filled adventure with characters we will be happy to see again.

In the dark corners of the mash-up city of San Fransokyo, 14-year-old genius Hiro Hamada (Ryan Potter) uses his robotic skills to make cash in illegal 'bot fights. When one of his opponents decides he needs to be taught a lesson, Hiro is rescued by his older and equally intelligent brother Tadashi (Daniel Henney). After an arrest requires them to be bailed out by Aunt Cass (Maya Rudolph) – like many Disney stories, their parents are dead – Tadashi tries to convince his brother to study with him at a cool university lab overseen by Professor Robert Callaghan (James Cromwell) and staffed by a motley crew of nerds working on crazy projects: Go Go (Jamie Chung), Honey Lemon (Genesis Rodriguez), Wasabi (Damon Wayans Jr.), and Shaggy-like slacker Fred (T.J. Miller). Hiro's impressed by the cool stuff they're working on, including his brother's invention, Baymax (Scott Adsit), a huggable white medical services robot designed to nurse humans back to health. Imagine the Michelin man with a medical degree. Hiro is determined to join the school and shows off his revolutionary nanobots in order to win entrance. When a tragedy changes his life, Hiro must team with his new friends and robot companion Baymax to fight the masked super-villain who has stolen both his invention and his brother.

This may be a Disney flick but the Marvel influences are clearly there. While Disney's Baymax is a merchandise-ready creation compared to the comic book version, the masked Tim Burtoneque villain and the intensity of the battles are definitely Marvel territory and lend to the film's PG-13 rating.

Big Hero 6's art direction is stunning, taking us into a vividly created world of soaring towers, airborne wind turbines and a magnificent Golden Gate-meets-Japananese-design bridge joining everything together. The nanobots controlled by the masked villain flow swiftly but still exhibit the characteristics of millions of individual pieces, a testament to the strides made in rendering computer effects. The mix of cultures are also evident in the action sequences, which evoke both classic American car chases and the fantasy-drenched battle scenes in Japanese anime.

While some elements of the film are dark, there are still ample amounts of humor. Adsit's Baymax is a highly specialized medical robot, so his experiences outside of medicine are few and Hiro is constantly trying to get him to operate outside of his area of comfort. While Wasabi is perhaps the most naturally muscular of the group of wannabe heroes, he's the one with the most fears and the always positive and mellow Fred is one dog short of being in a Scooby-Doo mystery.

Speaking of Scooby-Doo, if I had any quibble, it'd be that the story sometimes felt like it had the depth of an old Saturday morning cartoon. However, this was quickly contrasted by moments of real heart and friendship. Yes, this film is designed as a merchandiser's dream, but all that extra cash will ensure that we'll get to spend some more time getting to know this new gang of heroes.