Bigger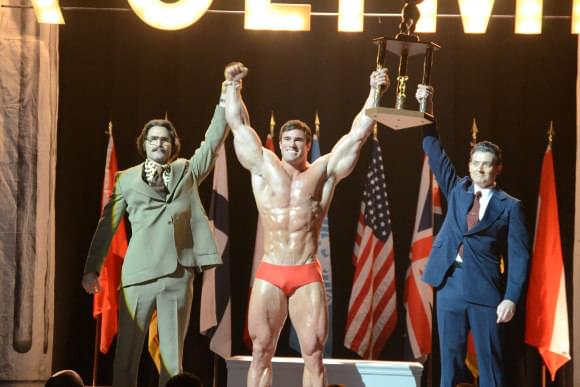 Photo: © 2018 Bee Holder Productions
Director(s): George Gallo
Writer(s): Andy Weiss, George Gallo, Brad Furman and Ellen Furman
Cast: Tyler Hoechlin, Aneurin Barnard, Julianne Hough, Victoria Justice, Colton Haynes, Max Martini, Tom Arnold, Steve Guttenberg, Calum Von Moger, DJ Qualls, Kevin Durand and Robert Forster
Reviewed by: Ian Evans on
Release Date(s)
Oct 12, 2018 - Wide


Joe Weider and his brother Ben were able to forge a fitness and publishing empire despite facing larger competitors, anti-Semitism, and society's own reluctance to take care of themselves and ditch their vices. Writer/director George Gallo takes this dynamic success story and turns it into a workmanlike biopic in Bigger.

The film begins with an aged Joe Weider (Robert Forster) at the funeral of his brother. A journalist (DJ Qualls) interviews Weider and this framing device gets us into the family history. Raised in 1930s Montreal, Joe and Ben live with their domineering and emotionally abusive mother (Nadine Lewington) and their inversely quiet and loving father (played by a blink-and-you'll-miss-him Steve Guttenberg). Picked on at school by bigoted bullies, Joe is inspired by a circus strongman to create a makeshift gym at home where he and his brother get to a physical place where they can't be picked on again. We flash forward to an older Joe (Tyler Hoechlin) as he wins a bodybuilding prize. When his mother still sees no value in their achievements, he and Ben (Aneurin Barnard) head out on their own.

From there, we see the start of Joe's fascination with improving the human physique. His first wife (Victoria Justice) is initially supportive of Joe's ambitions, but when he and Ben become all-focused on publishing a magazine, that relationship ends. Joe moves on quickly and it's this focus that help him and Ben climb the publishing ladder despite facing better known magazines and blatant bigotry.

Weider may be a household name in bodybuilding and fitness circles, but isn't necessarily so outside those groups. When dealing with a biopic about someone like that, the presentation of their life has to have interesting hooks to grab others in. Despite having four credited screenwriters (Gallo, Andy Weiss, Brad Furman and Ellen Furman), Bigger never really brought me into the story and I felt like a laundry list of life achievements was being checked off rather than fully explored. A good biopic has you heading to the cinema to catch it on the big screen, while this presentation is more suited for watching on a specialty cable channel in the background as you do weekend chores.

Hoechlin is earnest in his portrayal of Weider's mannerisms, speech patterns and single-mindedness. Barnard also lends humanity to Joe's more grounded brother. Julianne Hough, the talented triple threat who inexplicably does not have a bigger career, shows the spirit, intelligence and creativity of Joe's pin-up second wife, Betty Brosmer, who helped her husband in business and life and went on to be a fitness author and editor for Shape. In a small role, Calum Von Moger does an excellent job portraying Arnold Schwarzenegger, a role that could easily have just been a caricature. Though Tom Arnold chews a little scenery in his scenes as a drinking shots at work distributor who signs the Weiders to their first big deal, it's Kevin Durand's Bill Hauk that seems to have mistaken "bigger" for a direction rather than a title. His character is a fictional amalgam of some of the anti-Semitic competitors the Weiders faced in the fitness and publishing worlds, but he is so over-sized and over the top that he might as well be the animated villain in an old Disney feature.

Bigger is about a man who sought perfection, but unfortunately the film settles for mediocrity.