Brave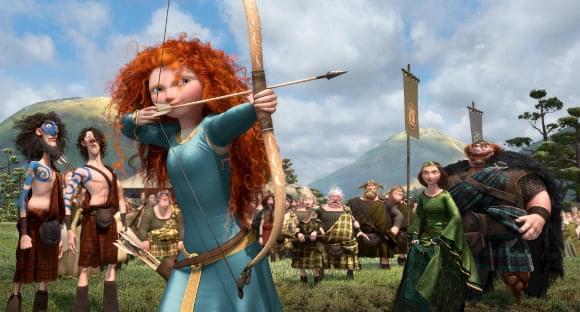 Photo: ©2012 Disney/Pixar
Director(s): Mark Andrews and Brenda Chapman
Writer(s): Mark Andrews, Steve Purcell, Brenda Chapman and Irene Mecchi
Cast: Kelly Macdonald, Billy Connolly, Emma Thompson, Julie Walters, Robbie Coltrane, Kevin McKidd and Craig Ferguson
Reviewed by: Ian Evans on
Release Date(s)
Jun 22, 2012 - Wide


As I settled into my seat for the screening of Disney/Pixar's 3D computer-animated movie Brave, I was a little concerned that the three young girls in front of me and the young boy behind me would talk throughout the whole film. Luckily for me, they laughed and whooped and hollered at the right moments and stayed quietly enthralled for the rest.

Brave tells the a story of Princess Merida (Kelly Macdonald), the wild, red-haired tomboy daughter of King Fergus (Billy Connolly) the warm-hearted yet powerful ruler of the clans who receives more than a little help and guidance from his wife, Queen Elinor (Emma Thompson), a woman who knows the political dealings necessary to keep the kingdom united. King Fergus encourages his daughter's wild streak, while Queen Elinor doesn't believe princesses should chortle or bring their weapons to the table.

One of those familial expectations that Elinor believe her daughter must fulfill is the betrothal of Merida to a son of the clan leaders. Though Merida protests that she doesn't want her life decided for her, Queen Elinor says it is her duty and fate and the three clan leaders — Lord Dingwall (Robbie Coltrane), Lord Macintosh (Craig Ferguson) and Lord MacGuffin (Kevin McKidd) — assemble for a highland games that has Merida's hand as the prize.

Merida, a phenomenal archer and athlete, manages to escape the proceedings on her faithful Clydesdale horse Angus. When she gets a less than successful witch (Julie Walters) to cast a spell to change her mother, it begins a chain of events that will put Merida's family, and her father's kingdom, in peril. Love and loyalty, destiny and choice, they all play a part in the plot.

The animation from the folks at Pixar is stunning. The technology advances that allow them to create a creature as wonderful looking as Angus really shows how far computer animation has come even in the last few years. The Scottish scenery that serves as a background to this highland story is breathtakingly beautiful. I've just come back from sailing up the Norwegian fjords and really, these scenes almost had me feeling as if I was on deck on a cruise 'round the British Isles. The 3D isn't annoying either, as the animators know to use it to bring us in to the story and not just to throw things at us. I felt so included in the proceedings that I felt out of place not wearing a kilt.

The voice casting is spot on. Kelly Macdonald has right amount of passion and anger for a rebellious teen being forced into the mold made by her mother, while Emma Thompson's Elinor strikes the notes of a woman torn between family and duty. Bill Connolly and the boys, Coltrane, Ferguson and McKidd, give rollicking performances as a group of men who can turn a dinner party into an event just short of war.

There are plenty of laughs, a few tears, some Disney-level scary moments and an examination of mother/daughter dynamics all wrapped up into a just over ninety minute delight for the whole family.