Chip 'n Dale: Rescue Rangers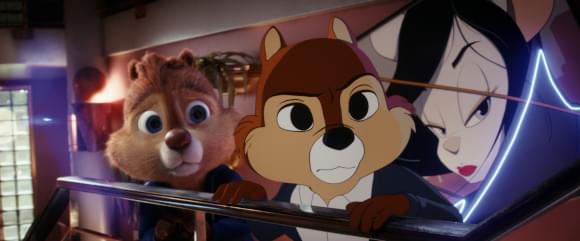 Photo: ©2022 Disney+
Director(s): Akiva Schaffer
Writer(s): Dan Gregor and Doug Mand
Cast: John Mulaney, Andy Samberg, KiKi Layne, Will Arnett, Eric Bana, Flula Borg, Dennis Haysbert, Keegan-Michael Key, Tress MacNeille, Tim Robinson, Seth Rogen and J.K. Simmons
Reviewed by: Ian Evans on
Release Date(s)
May 20, 2022 - Disney+


The Chip 'n Dale: Rescue Rangers series aired three seasons from 1989 to 1990. I wasn't actually its target audience, so I was coming in fresh to the story when they announced that a live action/animated hybrid feature film was being released this year. If you're looking for a four word takeaway, here it is: I had a blast.

In the feature, Chip (voiced by John Mulaney) and Dale (voiced by Andy Samberg) live in a world where cartoons and humans live side by side. They were elementary school buddies who went to Hollywood and landed the Chip 'n Dale: Rescue Ranger series. After the show was canceled and the act broke up, Chip became a jaded insurance salesman, while Dale peddles his Nineties fame at a string of fan conventions. While Chip is still traditional cel animation, Dale has undergone CGI transformation surgery to keep up with the animation trends. When their old co-star Monterey Jack (voiced by Eric Bana) goes missing, Chip reluctantly teams up with his old buddy to see if they can find him. Their search has them crossing paths with a gruff claymation police captain voiced by J.K. Simmons and an eager human rookie detective (played by KiKi Layne) who just happens to be a fan of their show. As their search widens, they interact with a variety of Toons, including a middle-aged and overweight Peter Pan (Will Arnett) and a dead-eyed Viking (Seth Rogen) who is reminiscent of the creepy early motion capture characters in films like Polar Express.

Full of winks and nods, pop culture references, and Easter eggs for other animated projects, it's understandable to think that Chip 'n Dale: Rescue Rangers might collapse under its own self-referential weight. It doesn't though. Buoyed by a fun story for kids of all ages and the charm of Mulaney and Samberg's performances, Chip 'n Dale: Rescue Rangers is a nice diversion from the news of the day. Obviously fans of the original series will get an additional nostalgic boost, but even coming in to the story fresh, I had a good time. Recommended.