Cruella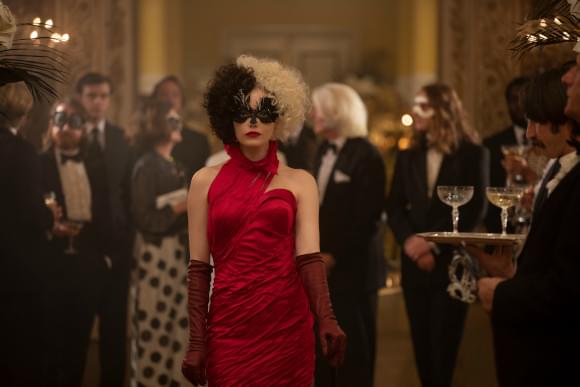 Photo: © 2021 Disney Enterprises Inc. All Rights Reserved
Director(s): Craig Gillespie
Writer(s): Dana Fox and Tony McNamara
Cast: Emma Stone, Emma Thompson, Joel Fry, Paul Walter Hauser, Emily Beecham, Kirby Howell-Baptiste, Mark Strong, John McCrae, Jamie Demetriou and Kayvan Novak
Reviewed by: Ian Evans on
Release Date(s)
May 28, 2021 - Wide and Disney+ PVOD


Cruella, the latest live-action reimagining from Disney, looks like they took the style of David Bowie and crossed it with the stage diving punk energy of his friend, Iggy Pop. The result is a raucous, fun, and twisted origin story for one of Disney's best villains, Cruella de Vil (Emma Stone).

All origin stories take us back to the beginning, so we first meet our titular heroine as a young English girl, Estella (Tipper Seifert-Cleveland), whose rebellious streak and fashion sense are as distinctive as her black-and-white hair. Her antics frequently get her in trouble at the stuffy school she attends and her doting mother (Emily Beecham) tries to balance getting Estella to dial it back while not stifling her natural talent. This being Disney, Estella soon finds herself an orphan, living on the streets of London with her young, grifting buddies, Horace and Jasper.

Flash forward a few years, and Estella (Stone), now sporting a crimson 'do, is still running cons and thefts with her pals. Jasper (Joel Fry) is the more intelligent and sensitive of the pair, while Horace (Paul Walter Hauser) has cornered the market on bumbling and dim. Still, when it comes to Estella, the pair are fiercely loyal. They're not related by blood, but they're family.

Estella, whose fashion designs have mostly gone towards providing disguises for her thieving trio, lands ass-backward into a design job with the wildly successful Baroness von Hellman (Emma Thompson), who's taken the Devil Wears Prada's Miranda Priestly, dialed it up to eleven, and accessorized it with a dose of pure evil. Since every protagonist needs an antagonist, events lead Estella to go from protégé to nemesis as she revives her Cruella alter ego and upstages the Baroness at event after event. As more secrets get revealed, the stakes get higher.

Writers Dana Fox and Tony McNamara turn Cruella's origin story into a manic rollercoaster that covers darker territory and comic moments while still managing to work in Easter eggs to the original 101 Dalmations story. It feels like there's another movie in between this and 101 Dalmations as we find ourselves rooting for Cruella, which begs the question of when she turns into one of Disney's most celebrated villains. This also isn't a story for the young fans of the original adventure as, at 133 minutes, Cruella is a marathon and not a sprint.

Director Craig Gillespie and director of photography Nicolas Karakatsanis takes us on this wild ride through 1970s London. The streets are alive and vibrant, the fashions wild and vivid, and the soundtrack an aural collage of everyone from the Stones, to The Clash, to Ike & Tina and beyond. This is Disney if Walt was a punk rocker. The cinematography is beautiful, one moment taking us through choreographed comedy only to transition into darker scenes reminiscent of a gothic Masterpiece Theatre story with a dash of Joker.

The two Emmas, Stone and Thompson, are perfectly matched to be big, bold, and conniving, though Thompson's experience gives her a slight edge in the photo finish. In any scene that they're both in, they suck up all the oxygen in the room. Fry and Hauser bring the animated comic relief of Jasper and Horace to life with a tenderness and devotion towards Cruella underpinning their every action. The supporting cast of Emily Beecham, Kirby Howell-Baptiste, John McCrae, Jamie Demetriou and Kayvan Novak manage to hold their own, with each having memorable performances.

Great performances, beautiful shots, and a rocking soundtrack make the lengthy runtime of Cruella a worthwhile journey to the birth of Cruella de Vil.