Dark Blossom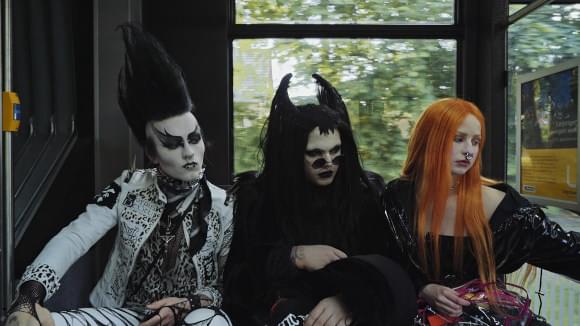 Photo: ©2021 Made in Copenhagen
Director(s): Frigge Fri
Writer(s): Frigge Fri
Cast:
Reviewed by: Ian Evans on
Release Date(s)
Apr 29, 2021 - Hot Docs Festival 2021


Danish documentary Dark Blossom, from filmmaker Frigge Fri, follows the lives of three young Goths as their lives and friendship evolves. They live in a small town in Denmark's Jutland region and escape the monotony and conformity of life there through a shared interest in dark imagery, fashion, music, vaping, and stuffed roadkill.

Josephine is the most into the stuffed wildlife and bones and has a wide collection of wigs she uses to transform herself into whatever mood she's feeling. "Nightmare" is a gay, half-Pakistani musician with the biggest personality of the group and an artistic streak to match. Jay, he of the sky-high mohawk, is quieter and balances his self-expression against a deeply Christian family.

Fri takes us into their world with a mix of lengthier moments of the friends hanging out and rapid-fire imagery of stuffed roadkill, crosses, and dying flowers. As we get more into the lives of the trio, we see that their lives, for all the outward appearances of rebellion, have their own form of conformity. When Josephine finds love outside the group, she acts like any other youth in an exciting new romance. She still hits the clubs and festivals, but suddenly her vape pen is decorated with hearts, her Instagram posts are about love, and – gasp! – her roadkill slowly gets replaced by a Hello Kitty collection. Jay, already a good student, wants to do better in school so he can get to university. Even "Nightmare", for all of his angst over the evolving friendships, takes his music and fashion design seriously with a path to growth.

Dark Blossom is a fascinating slice-of-life documentary that shows the paradox of individual expression. As soon as we identify ourselves with another group of like-minded individuals, we suddenly lose that which makes us unique and we face the same expectations from them that we were trying to escape from in the first place. It also shows that no matter what shape it takes, we are all looking for some form of community. At the same time, Dark Blossom is also a study in acceptance. If we all have the same hopes and dreams and worries no matter what we wear or what we listen to, why can't we just accept each other and let each other express ourselves the way we desire? Frigge Fri does an excellent job of letting us into the trio's lives.

Dark Blossom is premiering in Canada as part of the Hot Docs International Film Festival which runs online from April 29th to May 9th, 2021.