Doctor Strange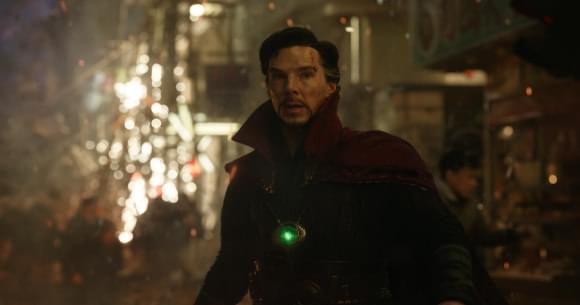 Photo: ©2016 Marvel Studios
Director(s): Scott Derrickson
Writer(s): Jon Spaihts, Scott Derrickson and C. Robert Cargill
Cast: Benedict Cumberbatch, Chiwetel Ejiofor, Rachel McAdams, Benedict Wong, Michael Stuhlbarg, Benjamin Bratt, Scott Adkins, Mads Mikkelsen and Tilda Swinton
Reviewed by: Ian Evans on
Release Date(s)
Nov 4, 2016 - Wide


Doctor Strange is the latest entry in the Marvel universe and this time around we get a superhero who mixes in a whole lot of mysticism and bends buildings rather than blowing them up.

Stephen Strange (Benedict Cumberbatch) is a top neurosurgeon and he's not afraid to let anyone know it. He's a rock star who belittles his coworkers and struts around so much he almost needs to be checked for peacock feathers. When a car crash destroys the dexterity in his hands, he finds that his career, his identity and his life appear to be over. His search for any way back to that life takes him to a side street in Kathmandu, Nepal.

There he meets the Ancient One (Tilda Swinton) and her assistants, Mordo (Chiwetel Ejiofor) and Wong (Benedict Wong), who overcome his initial arrogance and disbelief in mysticism to train him how to bend time and space. While the Avengers defend the Earth from physical threats, the Ancient One and her followers protect the Earth from metaphysical enemies like the fallen follower Kaecilius (Mads Mikkelsen). Yes, it's pretty easy to find some religious parallels here. If you're playing the home game, we've got Good and Evil and Satan and Jesus, with extra points for identifying other religious icons.

Cumberbatch brings an easy charm to Doctor Strange, who tosses off quips and bon mots with ease. He ably conveys both Strange's initial arrogance and his pain and bewilderment as his life changes and his initial training reveals he's not always the star.

Swinton and Ejiofor also do great work with their roles. They don't smirk at their roles or the metaphysical backstory they have to convey, treating these characters just as they would the ones in the Oscar bait films they usually appear in. Benedict Wong is great as both a foil and ally to Strange, while Mads Mikkelsen is sufficiently evil but not always given enough room to spread his wings. This is the problem in the superhero "origin story" flick as filmmakers have to explain so much about the main character that there's not always room for others to shine or develop. This happens to Rachel McAdams, who plays the good doctor's colleague and sometime squeeze. McAdams is a great and natural as always, but here her appearance is reduced to the barest of love interest/conflict roles. Hopefully, we'll see more of her as the franchise develops.

Visually Doctor Strange is trippy and in 3D you'll often feel like you've been dropped in the middle of an M.C Escher drawing.

With appealing visuals and characters, superhero quips and metaphysical chaos, Doctor Strange is a fine introduction to another chapter in the Marvel universe.