Dopesick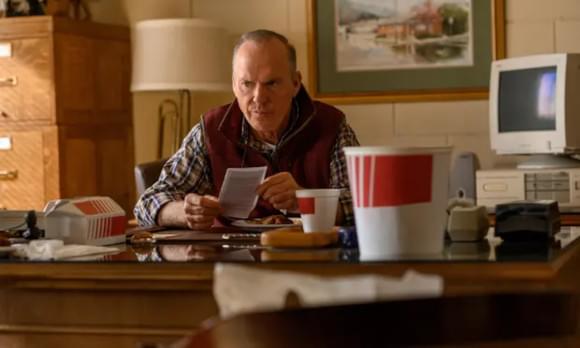 Photo: ©2021 20th Television
Director(s): Barry Levinson
Writer(s): Danny Strong
Cast: Michael Keaton, Peter Sarsgaard, Michael Stuhlbarg, Will Poulter, John Hoogenakker, Kaitlyn Dever and Rosario Dawson
Reviewed by: Ian Evans on
Release Date(s)
Nov 12, 2021 - Disney+ Star/Hulu


The eight-part limited series Dopesick, streaming on Disney+ in Canada and Hulu in the US, tracks the terrible origins of the opioid crisis that has destroyed the lives of so many. We follow three story lines — local, corporate and legal — as a tale of greed and corporate ambition unspools and puts its hooks into all aspects of society.

Purdue Pharma, run by the Sackler family, is facing a drop in profits as one of its patents runs out. Richard (Michael Stuhlarg) has the idea that by putting a slow-release coating on one of their painkillers and patenting it as Oxycontin, they can market it as a new, non-addictive painkiller that can be prescribed for every ache, pain, and twinge imaginable. They believe that less than 1% of the patients will become addicted. Despite family in-fighting over his expenditures, Richard is driven and sends out an army of pharmaceutical salespeople to wine, dine, and woo doctors across the U.S. who are reluctant to prescribe opioids for long-term use.

One of those doctors is Dr. Samuel Finnix, played with quiet restraint by Michael Keaton. He's the local doc in a small Appalachian mining town. He's targeted by Purdue rep Billy Cutler (Will Poulter), who gives him all the sales pamphlet talking points and tells him about the FDA's speedy approval and special treatment of Oxycontin. When one of his patients, Betsy (Kaitlyn Dever), suffers a debilitating injury in the mines, Finnix prescribes the new drug to her, hoping she can get back to work and thinking it will help her make enough money to start a new life elsewhere. He soon begins to see that he's at the epicenter of an addiction epidemic.

The final thread in Dopesick, the legal one, tracks the efforts of two assistant US attorneys Rick Mountcastle (Peter Sarsgaard) and Randy Ramseyer (John Hoogenakker). The pair have seen a correlation between Oxycontin use and an increase in all types of crime and also discover the two-way street that sees FDA administrators heading off to work for Purdue after its rapid approval. Aided by a DEA agent (Rosario Dawson), they build the case that leads them to take legal action against Purdue.

The performances are really good across the board and are the real strength of Dopesick. The narrative structure can be a little jarring as the timeline of the episodes jumps back and forth several years as opposed to unfolding the story in a linear fashion. Several documentaries have examined the opioid crisis in great detail and scope, but by focusing on some of the smaller human elements behind the story, Dopesick gives us a gateway into further understanding the huge toll this drug has taken on society.