Electric Jesus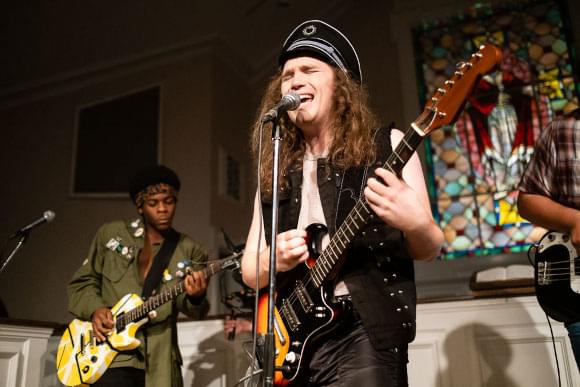 Photo: ©2021 1091 Pictures
Director(s): Chris White
Writer(s): Chris White
Cast: Brian Baumgartner, Judd Nelson, Andrew Eakle, Shannon Hutchinson, Wyatt Lenhart, Rhoda Griffis, Claire Bronson, Shawn Parsons, Caleb Hoffman, Gunner Willis and Will Oliver
Reviewed by: Ian Evans on
Release Date(s)
Nov 2, 2021 - VOD/Digital


Electric Jesus follows the rise and rapid fall of a short-lived band, 316, that is part of music's weirdest genre: Christian heavy metal. Though you might be worried that this is one of those poorly-produced schlocky religious films starring right-wing nutjobs like Kevin Sorbo or Jim Caviezel, fear not. Electric Jesus is a light-hearted comedy with a lot of affection for its characters. Religion is part of their lives, but not the reason for the film.

The story, set in the summer of 1986, is seen through the eyes of the band's new soundman, Erik (Andrew Eakle), a heavily religious young man who wants to "make Jesus famous" and knows far more about the Christian music scene than the band: howling lead singer Michael (Wyatt Lenhart), virtuoso guitarist Jamie (Will Oliver), volatile drummer Scotty (Caleb Hoffman), and lovable bassist Cliff (Gunner Willis). The band is spreading "the word" through their music, a mix of Christian rock covers from the likes of Stryper and their own compositions. They're devoted, they're earnest, but they're also naive, blissfully unaware of the double meaning as they sing "going commando for Jesus."

The band kicks some righteous ass at a local church talent show and they're introduced to Skip Wick (Brian Baumgartner), a mid-level Christian music promoter. A good mix of gospel and greed fuels Wick as he offers 316 a chance to spend the summer on the Christian rock circuit. Paid gigs and a chance to preach over power riffs is too much to pass up. Along the way, they perform at the church of a forlorn preacher, Pastor Wember (Judd Nelson) and gain a stowaway in the form of Wember's daughter, Sarah (Shannon Hutchinson). A talented singer in her own right, she's both an ally and a distraction to Erik. The lure of fame, the struggles of the road, and the taste of first love all lead to the summer of 1986 being Erik's most memorable one yet.

Electric Jesus does have some problems with pacing and the storyline sometimes feels like it's wandered the wilderness for forty years. Some plot points happen naturally, while others just occur quickly then vanish without much explanation. So I'm not a fan of the story as much as I am the performances. Andrew Eakle's Erik carries the story and our interest as we see him deal with balancing his religious mission and his heart's wants. Brian Baumgartner gives us a man with faults who desires a bigger career but realizes he's driving an RV full of teens like a Christian rock Rueben Kincaid. Hutchinson's Sarah has both the voice of an angel and the need to escape from her father's restrictive home. While Judd Nelson and the individual band members don't have as much focus as Erik, Skip, and Sarah, they all bring something to the story that's fun and engaging to watch.

Electric Jesus may not be a perfect film but the performances give it a chance at redemption.