Finding Nemo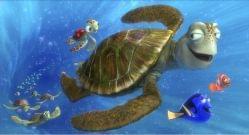 Photo: ©2003 Walt Disney Pictures/Pixar Animation Studios All rights reserved.
Director(s): Andrew Stanton
Writer(s): Andrew Stanton, Bob Peterson and David Reynolds
Cast: Albert Brooks, Elizabeth Perkins, Andrew Stanton, Geoffrey Rush, Joe Ranft, Vicki Lewis, Stephen Root, Austin Pendleton, Allison Janney, Brad Garrett, Willem Dafoe, Alexander Gould, Ellen DeGeneres and Barry Humphries
Reviewed by: Ian Evans on
Release Date(s)
May 30, 2003 - Wide


Pixar has delighted audiences with such computer-animated hits as the Toy Story films and Monsters, Inc. Their winning streak continues with the Disney release of the new Pixar film Finding Nemo.

Nemo is a young clown fish with an overprotective father named Marlin. When father and son become separated after Nemo is taken by an Australian dentist for his office tank, Marlin, aided by a forgetful fish named Dory, must face his fears to search high and low for his boy.

The animation in Finding Nemo is dazzling. Just as technological improvements advanced Toy Story 2 past its predecessor and Monsters, Inc. represented a change in the way items like hair were animated, Finding Nemo is another step forward for Pixar and its team of animators. The depths of the ocean present a whole boatload of animation challenges to overcome, including reflection and refraction and the animators are up to the task. Though Finding Nemo will surely be a popular DVD, this is a film that begs to be seen on the big screen, where the animators' success in presenting the vastness of the ocean will be better appreciated.

Pixar could easily rest on the animation laurels, with audiences in awe of their skill in the computer animation field. However, they combine this cutting edge technology, with ancient yet always important areas like storytelling and character development. I felt myself rooting for Marlin, Dory, Nemo and his office tank pals. I felt sad when the moment called for it, I laughed at their jokes — essentially I forgot I was dealing with a bunch of animated fish.

Pixar also continues their trend of getting excellent voice artists. Albert Brooks is perfect as Marlin, Nemo's paranoid and cautious father. Ellen DeGeneres is sweet and caring and trusting as the blue tang Dory, while other actors like Willem Dafoe, Brad Garrett, Geoffrey Rush and Allison Janney bring their own unique vocalisations to this underwater world.

Perfect for families or adults on their own, this film is sure to be a summer hit.