Frozen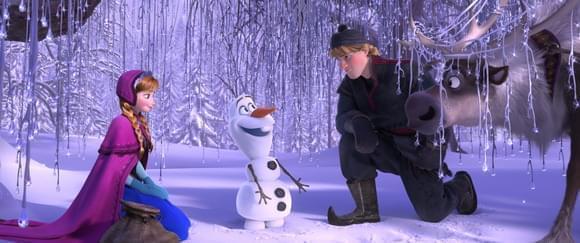 Photo: ©2013, Walt Disney Feature Animation
Director(s): Chris Buck and Jennifer Lee
Writer(s): Jennifer Lee
Cast: Kristen Bell, Idina Menzel, Jonathan Groff, Josh Gad, Santino Fontana, Alan Tudyk and Ciarán Hinds
Reviewed by: Ian Evans on
Release Date(s)
Nov 29, 2013 - Wide


The Disney world has been so populated lately by the endearing characters created by Pixar that some might have forgotten one of the core strengths of Disney's past filmography: the musical. Disney Animation Studio's Frozen is a 3D CGI-animated update of the era that brought us hits like Beauty and the Beast, The Little Mermaid and Aladdin. While the songs in Frozen may not be catchy enough to guarantee a future Broadway transfer, your heart will still be warmed.

Inspired by Hans Christian Anderson's The Snow Queen, Frozen tells the tale of two sisters. The boisterous, adventurous Anna (Kristen Bell) and her older sister, Elsa (Idina Menzel), who possesses the ability to manipulate ice and snow. When her powers almost kill her sister, Elsa represses her love for her sister, shutting her out of her life until the day of her coronation. When events lead to her powers crippling her kingdom in winter's grip, Elsa heads to the mountains in a self-imposed exile. Aided by an ice-cutter named Kristoff (Jonathan Groff), his reindeer, Sven, and an irrepressible snowman named Olaf (Josh Gad), Anna sets off to help the kingdom and hopefully patch things up with her icy sibling.

As I mentioned, the songs here aren't as toe-tapping as classics like "Be Our Guest" and after a while the musical numbers do take a bit of a back seat to the action. They are however sung in to the hilt by Bell and Broadway veterans Menzel and Gad.

Winter hats also have to be tipped to the use of 3D, which is used to bring us into the wonderfully animated world of ice and snow. The musical numbers and dance segments are also very effective in 3D, almost giving us the feel of watching an animated musical theater show. The massive ice castle created by Elsa is a sight to behold and the vast landscapes of ice and snow are so effective that you'll probably reach for a sweater in even the warmest cinema.

The characters are also reflective of the Disney tradition. Anna is spunky and cute while Elsa's ice queen moments have her dressed in a curve-hugging dress with a thigh-high slit that must have been developed from the memories of the animators' dream girls. The heroes have the broad shoulders and jutting chins required of Disney males and children at the screening I attended were already carrying around stuffed Olafs.

While so much of the Disney animated attention of late has centered around the output of Pixar, Disney Animation Studios' efforts like Frozen and Wreck-It Ralph show that division is still one worth watching.