Ghostbusters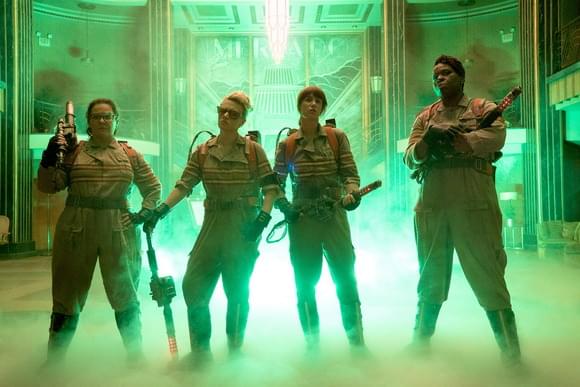 Photo: ©2016 CTMG, Inc. All Rights Reserved.
Director(s): Paul Feig
Writer(s): Katie Dippold and Paul Feig
Cast: Melissa McCarthy, Kristen Wiig, Leslie Jones, Kate McKinnon, Charles Dance, Michael Kenneth Williams, Chris Hemsworth, Neil Casey, Cecily Strong, Matt Walsh and Ed Begley Jr.
Reviewed by: Ian Evans on
Release Date(s)
Jul 15, 2016 - Wide


Director Paul Feig's reboot of the Ghostbusters franchise is an action-packed, laugh-filled spookfest that manages to introduce us to a new team of paranormal investigators while paying loving tribute to the team that came before.

Erin (Kristen Wiig) and her old high school friend, Abby (Melissa McCarthy), once wrote a book called Ghosts From Our Past: Both Literally and Figuratively. Erin, now hoping to become a tenured professor at Columbia, has put the book and the friendship behind her. When a ghost sighting is brought to her attention, she heads to the seedy school where Abby continues her research with Holtzmann (Kate McKinnon), a goofy mix between a physics genius and mechanic. The women reluctantly team up to investigate a haunted mansion and their team expands again when an MTA employee, Patty (Leslie Jones), brings them both another ghost and an encyclopedic knowledge of the Big Apple. Setting up shop above a poorly run Chinese restaurant, the team manages to get some ghostbusting gigs despite the incompetence of their receptionist, Kevin, played by the usually heroic Chris Hemsworth. When a malevolent janitor unleashes an apocalyptic amount of dead spirits on the city, who do think the city's gonna call?

Feig and co-writer Katie Dippold faced a big task as they rebooted a beloved film (we'll ignore Ghostbusters II) . Sure, they hit many of the same beats – assembling the team, clearing ghosts from an establishment with a snooty manager, fighting a city full of ghosts – but they also manage to add a new layer of relationships. The original scientists may have faced doubters, but Erin and Abby have been tormented about their beliefs since high school and their friendship has faced its own demons. Feig and Dippold explore this while still making us jump, laugh and watch characters get covered in copious amounts of green slime.

McCarthy and Wiig have shown time and time again that they are able to put the comedic pedal to the floor and do huge physical comedy. Here, they actually are quite restrained, getting the laughs while allowing their other cast mates to shine. McKinnon, whose every line seems to be an aside, captures the audience's attention whether she's the focus of the moment or just doing some shtick in the background. Leslie Jones, whose SNL Weekend Update bits have the force of a hurricane, focuses that energy down to a performance where each line has punch and also has a humanity that makes me wonder what she'd be like in a drama. Hemsworth's Kevin takes on the ditzy receptionist role with commitment. This is not an actor who's worried that goofiness will affect his standing as Thor.

We were shown a 2D version of the film, but I didn't find the visual effects any less engrossing. Though these effects have obviously advanced in the last three decades, they still manage to pay tribute to the styles of the original, so even there the audience will be in familiar territory.

Feig, Dippold and the cast obviously share an affection for the source material and cameos from the original team always managed to elicit a response from the audience, including a sweet "ah" when Feig worked in a tribute to the late Harold Ramis. It's not easy to make an homage and a fresh start, but this new Ghostbusters succeeds on both levels.