Glen Campbell…I'll Be Me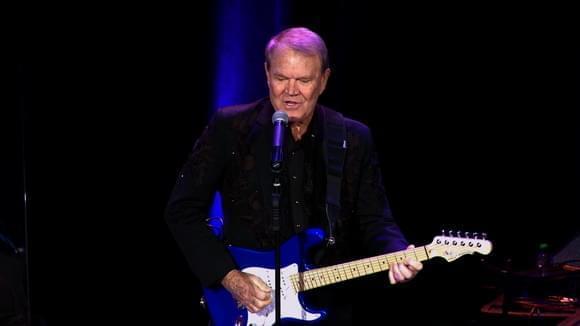 Photo: ©2014 PCH Films
Director(s): James Keach
Writer(s):
Cast: Glen Campbell and Kim Campbell
Reviewed by: Ian Evans on
Directed by James Keach, Glen Campbell…I'll Be Me traces the events surrounding the country music legend's final tour and album. The Goodbye Tour, which had three of his children in the band, took place shortly after he announced that he had been diagnosed with Alzheimer's disease.
The documentary begins with Campbell and his fourth wife, Kim, watching home movies. He doesn't recognize his younger self and has to be reminded of his children's names. While undergoing memory tests, he can't answer questions about the date, the season or U.S. history. He offers that if he needs to know those facts he'll look them up. The one thing he's still sure of is that he can still play the guitar.
And boy, can Campbell still play guitar. He was a session musician for such performers as Ricky Nelson, Frank Sinatra and The Beach Boys before striking it big as a solo act with hits like "By the Time I Get to Phoenix" and "Wichita Lineman." For three years, he hosted The Glen Campbell Goodtime Hour performing with fellow music legends like Johnny Cash, Merle Haggard and Willie Nelson. Those musical chops are still lodged firmly in his brain, and the doctors acknowledge that while family names and lyrics may elude him, the musical part of his brain is so developed that if you ask Campbell to play a solo he'll make his guitar sing.
Keach's camera makes us an observer in his life. We're on the tour bus as he tries to teach his security chief's son how to lace a new pair of shoes. We're backstage at the Grammys as Paul McCartney stops buy to say hello and you get the feeling that Glen's not sure who he is. We're at home with Campbell as he loses his temper as his increasing paranoia makes him think his friend and golf buddy has stolen some of his clubs. We're onstage as he performs with his children and isn't quite sure of their names without the teleprompter.
Keach also interviews fellow musicians like Brad Paisley, Blake Shelton, Bruce Springsteen, The Edge and Keith Urban, all of whom detail Campbell's talent and influence. Steve Martin, who wrote for Campbell's variety show, mentions that everyone who worked on the show were in awe of Campbell's abilities. Country star Larry Gatlin sums up Campbell's place in the hearts of his fans and current condition well when he says, "So what if he sang 'Wichita Lineman' twice? The crowd loved it."
Over the course of the months, we see Campbell's condition deteriorating. By the time he reaches a concert in Napa, the 151st of the tour, he's snapping at people onstage and fumbling through songs. It's clear to his family and crew that this will be the last show.
Glen Campbell…I'll Be Me is at times very hard to watch. When Glen's fully there, he's as charming and as talented as he ever was. When he quickly begins to fade, it is simply heartbreaking. The documentary will have many families speaking and hopefully those conversations will lead them to their lawmakers in the hopes that they will finally give this disease – a disease that robs us of our loved ones even before they die – the attention and funding that it needs.
Read our profile.