Green Room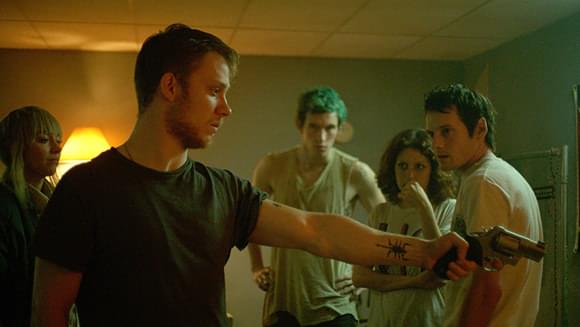 Photo: d Films
Director(s): Jeremy Saulni
Writer(s): Jeremy Saul
Cast: Patrick Stewart, Anton Yelchin, Imogen Poots, Alia Shawkat, Joe Cole, Callum Turner, Mark Webber, Macon Blair, Kai Lennox and Eric Edelstein
Reviewed by: Christine Lambert on
Release Date(s)
Apr 15, 2016 - Wide


To say the film Green Room is ugly is as drastic an understatement as they come. Green Room is a feel good family romp, but only if you're part of the Manson family.

The Ain't Rights are a punk band comprised of bass player Pat (Anton Yelchin), guitarist and manager Sam (Alia Shawkat), singer Tiger (Callum Turner) and drummer Reece (Joe Cole). Having fallen asleep at the wheel, the band, in their has-seen-better-days tour van, wake up in a cornfield. Resourceful as they are, they siphon gas from a stranger's car to get to their next gig on their tour. They are met by the promoter (David W. Thompson) of their next gig, but it's not until the next day that the band finds out that their concert got messed up and they are now playing a Mexican restaurant. Broke, angry and with a seemingly unlimited amount of rice and beans, the band accepts a gig to perform a matinee show in a club in the Oregon backwoods occupied by neo-Nazis. Even though there is hesitation to accept the offer, accompanied by a brief question and answer period regarding the clientèle, the $350 pay day wins out.

When the band arrives at the venue, it quickly dawns on them that they are out of their element. The club's manager, Gabe (Macon Blair), gives them a quick run down of the place including a very staunch briefing on the fire code. Pat questions whether they should be there or not, but still goes ahead with the performance. Even though their first number, a cover the Dead Kennedy's song "Nazi Punks F*ck Off", doesn't go over well, the rest of their set does and the band wins over the crowd.

After their set, they get paid, and grab their stuff, which is now in the hallway instead of the green room. As they are about to leave, Sam realizes that she has left her phone in the green room and Pat offers to get it for her. It is at that point that the band's worst fears come true as they now witness the aftermath of a murder in that green room.

There are many sides to the ugliness of Green Room. First, aesthetically, as the venue where the core of the movie takes place is an awesome sight of filth and depravity. Production designer Ryan Warren Smith's hunt for a club suitable to match the script fell short so they built the club. Writer/director Jeremy Saulnier's writing and vision is so precise that every meticulous detail in the set design leads one to truly believes that they are watching an actual backwoods club. As not to sugar-coat the sheer vile nature of the place, only those wearing hazmat bunny suits and a willingness to bathe in Lysol should ever enter those doors.

The ugliness of the script is next. Saulnier's own punk experience is what inspires the writing. Though there is no indication that neo-Nazi's were a part of his experience, it is still an ugly side of humanity to know that there are real people in these towns living and immersing themselves in violence. The mood even before the murder is very dark and miserable. Almost every inch of the venue has white supremacist graffiti and Confederate flags as decor.

The desperation of Saulnier's characters is ugly. Instead of turning around once they see see who they will be playing for, the band goes ahead with their commitment. Obviously second guessing their choice, they still go ahead despite every instinct telling them to turn around. As well, the murder that takes place in the green room seems as effortless and non-consequential as ordering an ice cream cone. The lengths the club's regulars go through to control and torment the band shows their own ugliness.

The band's fate is ugly. When Pat steps into that room and sees the dead body, essentially the band turns from performers to survivalists. Trapped in the green room, they now have to use their wits to get out alive. Yelchin wonderfully plays the tough on the outside brimming with fear on the inside Pat. Though he reluctantly becomes the voice to negotiate their fate, Yelchin shows the vulnerable side of someone negotiating for his life. Shawkat turns from tough and cynical at the beginning of the film to someone who has a hard time comprehending what is going on. A far cry from Maeby Funke in Arrested Development, Shawkat shows her dramatic side effortlessly.

Patrick Stewart proves that anything said in an elegant British accent sounds delightful. His take on club owner and leader of the movement is as dark and psychopathic as they come. Barely raising his voice or seemingly his blood pressure, he berates Gabe over his hasty decision once the situation explodes into a crisis after Pat sees the body. Blair's Gabe is played with an uncertainty that he should even be in the club let alone dealing with neo-Nazi's. His demeanour makes one question his mind set when choosing to deal with these people.

To use the word ugly many times is actually a compliment. There is not one frame that could be labeled pretty, as it shouldn't be. To get the full picture and feel of what it must be like in one of those clubs, Saulnier goes to the depth of his experience and imagination to create a clever, gruesome, raw and unforgettable film that will stay in the memory of the viewer for a long time.