Here Comes the Boom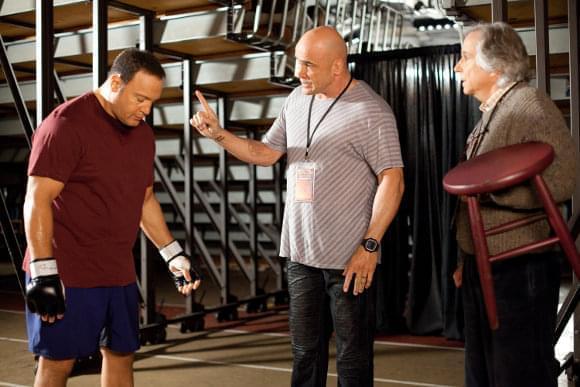 Photo: ©2012 Columbia Pictures
Director(s): Frank Coraci
Writer(s): Allan Loeb and Kevin James
Cast: Kevin James, Salma Hayek, Henry Winkler, Greg Germann, Joe Rogan, Gary Valentine, Charice, Bas Rutten and Reggie Lee
Reviewed by: Ian Evans on
In Here comes the Boom, Kevin James plays Scott Voss, a former teacher of the year who has lost his will to teach and would rather sleep than shepherd his students through a cookie-cutter system. When the music program and its lovable teacher (Henry Winkler) both face termination, Voss is suddenly inspired to try and save both by raising the money as a UFC fighter.
Here comes the Boom has all the formulaic pieces in place: an underdog in a sports story, a teacher who regains his love of teaching and inspires his students, and an unlikely love interest (Salma Hayek) who must be wooed. Formulaic, okay-on-a-rainy-afternoon films already face an uphill battle, but when they're produced by Adam Sandler's company and directed by Sandler's frequent director (Frank Coraci), that uphill battle becomes downright Sisyphean.
In this sort of film, the film-goer knows what's going to happen in the first few minutes. There's absolutely no need for "spoiler alerts" unless the viewer has only seen the darkest sports hero and teacher redemption tales. So the only surprise we're left with is the execution. Kevin James, best known as the parcel delivering lead of the series The King of Queens, stars in, co-produced and co-wrote the film. It comes off as a middling sitcom episode stretched to 105 minutes and seasoned with a few more bodily function jokes than TV would allow. Even there, it struggles with wanting to be a family film too, so though there may be bodily fluids they're more restrained than what the R-rated comedy crowd would show. The sexy Salma Hayek may be the love interest, but don't expect the heat to get above lukewarm. When you want to be crude but need a leash, the end result usually falls flat.
Kevin James is a likeable guy, but given that his character is engaged in such a physical sport as mixed martial arts, his performance actually has less energy than the Milquetoast music teacher performed by Henry Winkler. Winkler, whose character is a thousand miles away from how cool we used to think Fonzie was, plays Marty as an earnest, passionate man who helps to rekindle Voss' passion for teaching while failing him miserably as a ringside assistant and maker of home-made apple sauce.
A couple of real MMA fighters, Bas Rutten and Mark DellaGrotte, play trainers in Voss' camp. While another MMA fighter, Krzysztof Soszynski, plays Voss' biggest opponent. David Foster's protégé, Charice, handles her limited role (surprise: she sings) fine, while Salma Hayek, who is gorgeous and funny, only gets one good scene of physical comedy.
When you're making a formula film, you have to rise to the challenge, but unfortunately, this fighter tapped out early.
Read our profile.