Home Sweet Home Alone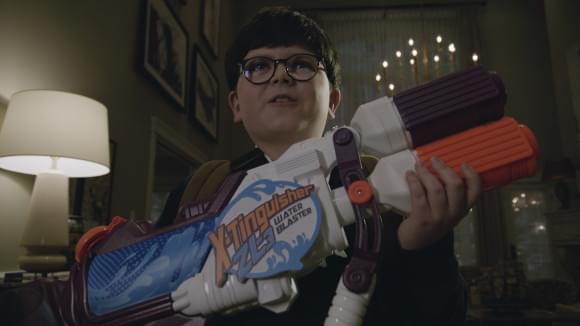 Photo: ©2021 20th Century Studios
Director(s): Dan Mazer
Writer(s): Mikey Day and Streeter Seidell
Cast: Ellie Kemper, Rob Delaney, Archie Yates, Aisling Bea, Keenan Thompson, Timothy Simons, Pete Holmes, Devin Ratray, Ally Maki, Chris Parnell and Andy Daly
Reviewed by: Ian Evans on
Release Date(s)
Nov 12, 2021 - Disney+


In the new Disney+ movie Home Sweet Home Alone, parents Pam (Ellie Kemper) and Jeff (Rob Delaney) are reluctantly holding an open house with their real estate agent (Keenan Thompson), as the changing job landscape means they can no longer afford their home. Pretending to be buyers, British mom Carol (Aisling Bea) and her snide little son, Max (Archie Yates), enter the home so Max can use the bathroom. Before they leave, Max gets into a verbal tussle with Jeff, making fun of a doll collection in the house. We soon discover that one of those dolls is worth a lot — I mean A LOT — but when Pam and Jeff realize it's gone missing, their prime suspect is the snotty kid they just met. When they track them down and see the family heading to Tokyo for the holidays, they plot to break in, retrieve the doll, and save their family home. There's just one problem. Max has been left home alone.

Fans of the original Home Alone franchise will know what's coming next. A young boy outwitting two adults with an elaborate series of booby traps, billiard balls, butter, flour and tacks. It's as if Rube Goldberg went shopping at ACME, Wile E. Coyote's favourite store. Home Sweet Home Alone is full of Easter eggs calling back to the original franchise. When a local cop is asked to check on the house, he turns out to be Buzz McCallister (Devin Ratray, who played Buzz in the Home Alone movies), who blows off the call saying his brother tries to prank him every year. The film may be stocked with Easter eggs, but the store shelves were bare when they looked for genuine laughs and heart. Yes, heart. The script, by SNL writer Streeter Seidell and SNL troupe member Mikey Day, pits a wealthy kid against a teacher — a teacher! — and her unemployed husband trying to avoid foreclosure and we're supposed to root for the rich kid. I have a feeling this will soon be the favourite Christmas film of former Home Alone cameo actor Donald Trump.

Archie Yates was charming as the sweet sidekick in Jojo Rabbit and he does play an entitled snot with great skill here. Keenan Thompson is always able to make us crack a smile and Timothy Simons nails it as Jeff's brother, a man the audience would love to punch. The cast also includes Andy Daly, Pete Holmes and Chris Parnell, who are so under-utilized that the writers and director Dan Mazer should all receive a lump of coal. I'll save the best presents for Kemper and Delaney, who take a beating and still manage to be the only kind and caring characters in the film.

Fun family Christmas gatherings should have a tree, comforting food, and the people you love. As for this movie, I hope they included a gift receipt.