Luca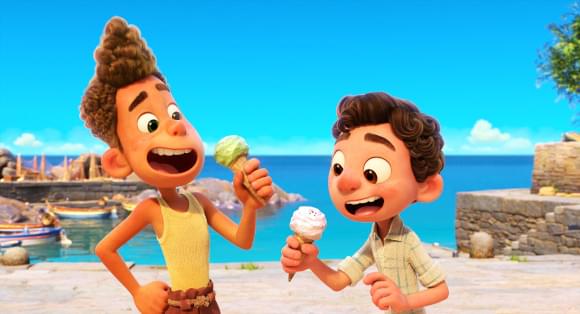 Photo: ©2021 Disney/Pixar
Director(s): Enrico Casarosa
Writer(s): Jesse Andrews and Mike Jones
Cast: Jacob Tremblay, Jack Dylan Grazer, Emma Berman, Saverio Raimondo, Maya Rudolph, Marco Barricelli, Jim Gaffigan, Sandy Martin and Sacha Baron Cohen
Reviewed by: Ian Evans on
Release Date(s)
Jun 18, 2021 - Disney+


After about 15 months of various lockdowns during the Covid-19 pandemic, Luca comes as a breath of fresh sea air. Gorgeous, sweet, and funny, I found myself longing to book a trip to an Italian coastal town, where I would sit on a patio and eat seafood pasta all day.

Luca is your typical sea monster out-of-water/coming-of-age story. Luca (Jacob Tremblay) is a young denizen of the deep, who spends his days watching the family's herd of fish and his nights wondering what might be out there above the surface. His mother, Daniela (Maya Rudolph), is overly protective; his father, Lorenzo (Jim Gaffigan), is blissfully unaware. When he sneaks off and meets another slightly older boy, Alberto (Jack Dylan Grazer), he's introduced to another world where he and Alberto transform into humans and dream of a life exploring the world together. When his parents find out he's been making trips to the surface, they plan to send him to The Deep, where hopefully his uncle can teach him to conform.

This leads Luca to run away with Alberto to the seaside town of Portorosso, where they see new sights and meet a feisty young girl named Giulia (Emma Berman), who dreams of defeating the town bully, Ercole (Saverio Raimondo), in the town's fabled triathlon. The youthful adventure is always fraught with the danger of the boys being discovered for who they really are and being attacked or even killed by the villagers who are scared of what they believe lives below their sparkling blue waters.

Longtime Pixar animator Enrico Casarosa has the helm this time around and he and his team have created a world that should immediately have you booking the next flight to Italy. The colours are bright and powerful, from the sparkling blue ocean to the colourful canopies shading the entrances to the town's many eateries.. The scenes are amazingly detailed with so much going on in the background that you'll find yourself doing repeated views just to see what you might have missed. The character designs are perfect, from the leads to the smallest background citizen. The voice talent is well cast and they bring love and daring and humour and, yes, even some menace to their various roles. Visually, ,Luca is a love letter to the coastal towns the story is set in.

Now the youngest viewers of Luca, the ones who will watch this movie over and over again on Disney+, will see this as a fun summer adventure. Older viewers can go that route too, or notice the subtexts swimming below the surface. In that environment, Luca is an examination of the world we're living in. There's a definite thread that being different can get you ostracized, hurt or worse. You can choose to see it as a story of race, religion, or given the many indicators, as a story of a love between Jacob and Alberto, with the bullying Ercole constantly saying, "There's something different about those two." Ultimately, it's a story of love and acceptance, friendship and family. That should be something to cheer about, but I fear the intolerant will sharpen their pitchforks and say it's another sign that civilization is falling. I choose to celebrate Luca's existence and think your family will love it too.