McFarland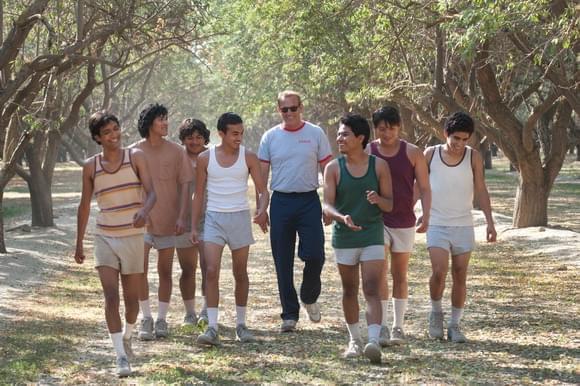 Photo: ©2015
Director(s): Niki Caro
Writer(s): Christopher Cleveland, Bettina Gilois and Grant Thompson
Cast: Kevin Costner, Maria Bello, Morgan Saylor, Martha Higareda, Michael Aguero, Sergio Avelar, Hector Duran, Rafael Martinez, Johnny Ortiz, Carlos Pratts, Ramiro Rodriguez, Danny Mora, Valente Rodriguez, Vanessa Martinez, Chris Ellis, Diana Maria Riva and Elsie Fisher
Reviewed by: Ian Evans on
Release Date(s)
Feb 20, 2015 - Wide


If you want to make an inspirational film, it doesn't hurt to head to Disney. And if you want to make an inspirational sports film, hiring Kevin Costner is a pretty good idea. While many sports films follow a photocopied story, director Niki Caro deftly avoids that trap.

McFarland (or McFarland, USA as Disney is releasing it in the States) is based on the true story of Jim White, a football coach whose temper has cost him a few jobs. McFarland High, located in California's Central Valley, is the only school that will take a chance on him. White moves his family — wife Cheryl (Maria Bello) and daughters Julie and Jamie (Morgan Saylor and Elsie Fisher) – to McFarland, a town whose demographic is so predominantly Latino that one daughters asks, "Are we in Mexico?" The townspeople are surprised that the White family are actually living amongst them instead of in nearby Bakersfield and White is initially wary of the younger citizens, imagining gang-bangers behind the wheels of the lowriders that drive "low and slow' on the town's streets.

When White butts heads with the head coach, he suddenly finds himself without a team. Noticing that the boys of the school are natural runners, especially Thomas Valles (Carlos Pratts), White convinces the principal to let him try and start a cross country team.

For most sports films that would be all that was needed: coach helps team in poorer area beat wealthier schools. But Niki Caro, along with screenwriters Christopher Cleveland, Bettina Gilois and Grant Thompson, delve deeper into the lives of the team members and their families. In most sports films, you see the athletes working hard on their training. But the boys on the cross country team work hard all the time. They get up at 4:30 a.m., jump into the backs of pickups and head off with their families to work in the fields until it's time to go to school. When school's over, they head back to the fields…and yet still manage to train with White, or Blanco as they call him. White discovers what these young men are made of and also learns of the deep roots of support that their families give them.

Costner is a low-key actor who'll probably never be in a buddy comedy with Jim Carrey, but his quiet performance gives us time to see a man struggling with how his actions have affected his family. We also have the time to see how the young men on his team are affecting him and his idea of where he belongs and what his purpose is. Strangely, for a film directed by a woman, Maria Bello is given the underused wife role, a pinch hitter who steps up to the plate in the middle of the film to adjust her husband's compass and set him on the right path. We don't see much of the youngest daughter, Elsie Fisher, but Homeland's Morgan Saylor, a twenty-year-old actress playing fifteen, goes from a self-absorbed teen to a young woman appreciating the community around her. Of the boys on the team, Carlos Pratts' Thomas has the most emotional journey, with a distant father and a fatalistic world view, while the Diaz brothers (Ramiro Rodriguez, Rafael Martinez and Michael Aguero) work wonderfully as a family to show us the strength and resolve of the community. Sports films often just focus on the coaches and players, but here Sammy Rosaldo (Danny Mora) and Señora Diaz (Diana Maria Riva) give depth to the supporting players as well.

You might be wary of a film about cross country running, but with a lot of heart, Costner and a team of young actors go the distance to elevate McFarland over standard feel-good sports fare.