Monsters, Inc.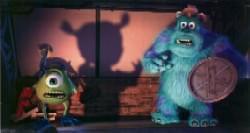 Photo: © Disney/Pixar. All rights reserved.
Director(s): Pete Docter
Writer(s): Andrew Stanton and Daniel Gerson
Cast: John Goodman, Billy Crystal, Mary Gibbs, Steve Buscemi, James Coburn, Jennifer Tilly, Bob Peterson, John Ratzenberger and Frank Oz
Reviewed by: Ian Evans on
Release Date(s)
Nov 2, 2001 - Wide


Ever since I went to the press screening for Monsters, Inc., I've been checking under the bed for monsters. Sadly, they haven't been there.

Pixar, the folks who brought us Toy Story 1 & 2 and A Bug's Life, have once again teamed up with Disney to bring us a computer-animated comedy that works on all levels and for all ages. The technological advances, especially in the depiction and movement of hair, fur and clothing, are stunning and the rendering of light sources and shadows has also shown an evolution. All that technology won't help if the story doesn't have something to it, but Monsters, Inc. doesn't fail us there either.

It turns out that the Monsters behind our closet doors are just working stiffs, clocking in a day at the office in order to collect the screams of children which are then used to power the world of Monstropolis. Sulley, an eight-foot-tall green and blue furry monster, and his friend and assistant Mike, a lime green one-eyed monster, are the top Scare Team at Monsters, Inc. Besides the competition they face from Randall Boggs second place team, there's the added pressure of an energy shortage facing the city. To the dismay of company CEO Henry J. Waternoose, today's children are harder to scare than before and rolling blackouts are becoming the norm.

One day, Sulley discovers a closet door has not been returned after the shift and when he investigates he accidentally lets a human girl into the monsters' world. Monsters believe that children are toxic and dangerous and in order to protect her and get her back to her own world, Sulley enlists the aid of his friend Mike. While the pair struggle to get her back, they stumble upon a terrible plot to harvest more screams and fight to do the right thing.

John Goodman lends his voice to Sulley and manages to add warmth and tenderness to the character, which is not easy when that character is eight-feet-tall and horned. Billy Crystal's wisecracking works perfectly for Mike, Sulley's roommate, friend, cheerleader and more practical conscience. Though he and Sulley don't always see eye to, er, eye, Mike's own heroism is not to be doubted.

A fine voice cast including Steve Buscemi, James Coburn, Jennifer Tilly and Frank Oz, add their own stamp of authenticity to the wacky group of characters. By film's end, their actions and appearances all seem quite normal. We shouldn't overlook the voice work of Mary Gibbs who voices the little girl that Sulley names "Boo." She was three-years-old at the time her role was recorded and she did an excellent job portraying the cuteness and innocence of the story's catalyst.

Monsters, Inc. has warmth, humor tenderness and friendship. When the only monsters we currently see are on the nightly news, this is a welcome relief.