Only Murders in the Building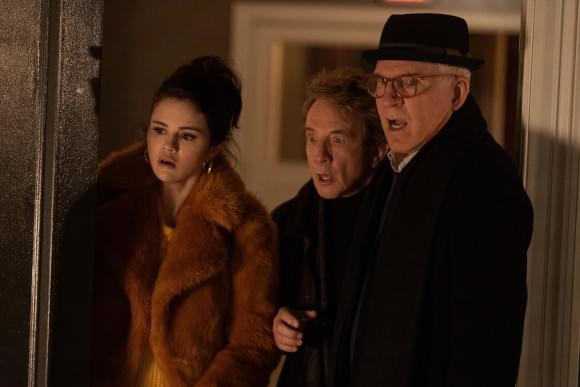 Photo: ©2021 Hulu
Director(s): Jamie Babbit, Gillian Robespierre, Don Scardino and Cherien Dabis
Writer(s): Steve Martin, John Hoffman, Kirker Butler, Ben Smith, Kristin Newman, Thembi Banks, Madeleine George, Kim Rosenstock, Stephen Markley, Ben Philippe, Rob Turbovsky, Matteo Borghese and Rachel Burger
Cast: Steve Martin, Martin Short, Selena Gomez, Nathan Lane, James Caverly, Michael Cyril Creighton, Jackie Hoffman, Amy Ryan and Aaron Dominguez
Reviewed by: Ian Evans on
Release Date(s)
Aug 31, 2021 - Hulu/Disney+ Stars


We begin Only Murders in the Building with three neighbours in an upscale New York building who barely acknowledge each other's existence. Charles (Steve Martin) is an actor whose biggest role as a TV detective is behind him. Oliver (Martin Short) is a theatre director whose next project always seems to be a few months away. And Mabel (Selena Gomez) is the enigma. How does she afford to live there? When a fire alarm sends them to seek refuge in a nearby restaurant, they realize they're all enthralled with the latest true crime podcast. When the fire alarm turns out to have covered for a possible murder, the trio suddenly turn amateur sleuths and launch a podcast of their own. Their apartment building, the Arconia, becomes their focus and their neighbours and immediate universe (played by Nathan Lane, James Caverly, Michael Cyril Creighton, Jackie Hoffman and Amy Ryan) give them a cast of characters and suspects worthy of a game of Clue. Did Tim Kono (Julian Cihi) kill himself? Was he killed? And was it one of their neighbours?

The series, created by Steve Martin, Dan Fogelman, and John Hoffman, is outwardly a comedy but Martin, Short, and Gomez all have backstories that lend the proceedings a foundation of pathos. It's no surprise that after countless film projects and live shows Short and Martin have an easy and well-established chemistry. Martin expertly plays the buttoned-down guy one step from the edge and Short is a master of combining scenery chewing and emotional depth. I have to admit I haven't seen a lot of Gomez before but she has real depth as the member of the trio with the most secrets and her chemistry with the others, especially Steve Martin, is enjoyable and engrossing.

I really don't want to give much more detail than that, as peeling away the layers of this Upper West Side onion is so much fun. A great main trio. Supporting characters that add flavour to the recipe. And a whodunnit that will have you hooked. What are you waiting for?

Only Murders in the Building premieres today on Hulu in the US and on Disney+ Stars in Canada. The first three episodes are available immediately, with subsequent episodes arriving weekly. Don't miss it.