Pam & Tommy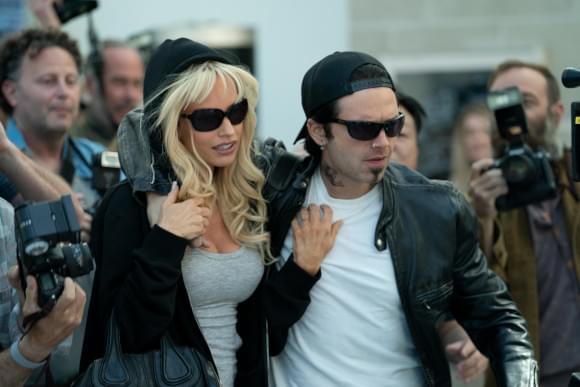 Photo: ©2022 Hulu
Director(s): Craig Gillespie, Lake Bell, Gwyneth Horder-Payton and Hannah Fidell
Writer(s): Robert Siegel and D.V. DeVincentis
Cast: Lily James, Sebastian Stan, Seth Rogen, Nick Offerman, Taylor Schilling, Fred Hechinger and Paul Ben-Victor
Reviewed by: Ian Evans on
Release Date(s)
Feb 2, 2022 - Hulu/Disney+ Star


Gather 'round boys and girls and I'll tell you a story of the early Nineties, when the public was just learning of the Internet, social media didn't exist, and porn was something you watched on videotapes.

Pam & Tommy, the new limited series airing on Hulu and Disney+ Star, examines the events around the infamous sex tape of Pamela Anderson and Tommy Lee. Anderson (Lily James) was the star of Baywatch, the world's most popular syndicated show that featured the 4Bs: beaches, babes, boobs, and butts. Lee (Sebastian Stan) was the drummer of one of the most notorious hair metal bands of the Eighties, Mötley Crüe, and partied harder than most people should survive. At the beginning of the Nineties, her star was rocketing skyward, while his was beginning to fade as musical tastes changed. The pair met and, after a whirlwind courtship, married on a beach in Mexico, documenting their personal moments on a tape meant for private consumption and locked away in safe.

It was at that point that their lives crossed with Rand Gautier (Seth Rogen), a contractor working on their home. Though he fancied himself an inventor and student of spirituality, Gautier's life was going nowhere. After being fired by the mercurial Lee, Gautier's enhanced sense of karma dictated that the score be settled. Stealing Lee's safe, he discovered the private sex tape, teamed up with a porn associate, Miltie (Nick Offerman), and started selling the tape to a thirsty public through the newfangled worldwide web.

Across the eight episodes of Pam & Tommy, the various aspects of this story unfold. There's the crazy love story of Anderson and Lee, which despite the wild trappings of their fame, included some semblance of domestic bliss, home-cooked meals, and their desire to start a family. There's Gautier's sense of vengeance and the belief that karma will improve his life and possibly redeem him in the eyes of his ex (Taylor Schilling). There's the wild ride of getting the tape out to the public, which sees Gautier and Miltie dealing with loan sharks, post office boxes, and offshore banks. There's the story of how the internet helps and eventually betrays Gautier. There's the story of how Pam and Tommy tried to shove the genie back into the bottle, both through legal and less legal means. The most important story centres around the treatment of Anderson, from ridicule and humiliation to outright misogyny. While society basically backslapped Lee, Anderson was the target of late night jokes, the subject of demeaning legal procedures, and suffered the most career damage. The series is able to give each of these facets the required time without the story dragging or going off into unnecessary detours.

Sebastian Stan, decked out in the piercings, tattoos and eyeliner of one of rock's most notorious drummers, could easily have ventured into caricature but instead shows Lee's layers. One minute he's doting on Pam, cooking her Greek feasts and longing for children and the next minute he's getting into bar brawls or not seeing the gravity of their situation and its ramifications for Pam. Seth Rogen perfectly captures the sort of pathetic ass who thinks he's smarter than everyone in the room but can't see how clearly he's the dumbest. You might be tempted to feel sorry for him for a minute but his blind spot to how he's hurting Anderson erases that pretty quickly. Nick Offerman's Miltie is no Nobel Laureate either, but he's bright and slimy enough to work the situation to his advantage. Despite limited screen time, Taylor Schilling, as Rand's ex, serves to illuminate the whole moral failing of his quest for what he considers to be justice.

The real star of the show is Lily James. The makeup and hair departments have transformed her into such an accurate physical representation of Anderson that you'd be forgiven for thinking you're watching documentary footage. All of that work would just be window dressing if James wasn't able to capture the nuances of Anderson's character, from her public strength in the face of demeaning depositions and late night talk show grillings, to her private torture as the rapidly expanding scandal took both a personal and physical toll on her.

If you lived through these times, you might think there's nothing left to know about this story, but Pam & Tommy takes you behind the headlines and late night jokes.