Penguins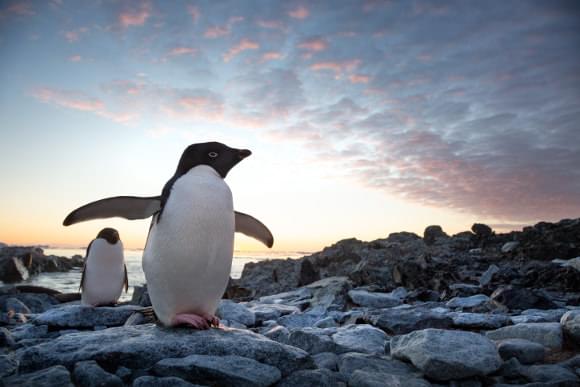 Photo: ©2019 Disney
Director(s): Alastair Fothergill and Jeff Wilson
Writer(s): David Fowler
Cast: Ed Helms
Reviewed by: Ian Evans on
There's a new hero in town and his name is Steve the Penguin. In the latest film from Disneynature, Penguins, we get to meet Steve, an Adélie penguin, who along with about a million of his fellow penguins is on a quest for love and family. The Adélie, which is about the size of a baby Emperor penguin, is just a plucky and far more adorable than its larger cousin. And Steve might be the pluckiest of them all. It's his first summer where he's old enough to mate and, narrated to perfection by Ed Helms, he must find a suitable patch of rocky ground upon which to build a nest worthy of enticing a young lady penguin. Just like real estate everywhere, it's all about location, location, location.
You have to remember this is a nature documentary and, unlike an animated animal adventure, the filmmakers just can't make the animals do what they want them to do. Director-producers Alastair Fothergill and Jeff Wilson led a team of documentarians as they shot hundreds of hours of amazingly beautiful but difficult to get footage in the harsh conditions of Antarctica, which is a challenging location even in the best of conditions. Upon collecting that footage, they then assemble the story from that. As it turns out, Steve the penguin was the perfect penguin to choose to follow. Young, inexperienced and not the most sure-footed member of a group that already waddles, Steve trips as he crosses the rocky and icy expanses of his summer home. As he collects small rocks for his nest, another sneaky penguin steals them as he turns his back. So much stuff naturally happens to Steve that you begin to think that he came from a Hollywood penguin talent agency and demanded his own trailer on set and a personal trainer.
Though it just clocks in at 76 minutes and Ed Helms provides the perfect light and humourous tone for the narration, Penguins is not without some moments of peril that might scare the youngest of audience members. The penguins are cute, but they represent a nice meal option to the killer whales, skuas and leopard seals that circle the penguins' breeding grounds.
Enough cannot be said about the cinematography that captures Earth's most remote continent in all of its stark and harsh beauty. Between the cinematography, the comical cues in the movie's soundtrack, and the affection you'll feel for the protagonist Steve, Penguins is a great movie outing for kids and nature lovers of all ages. Highly recommended.
Read our profile.