Peter Rabbit 2: The Runaway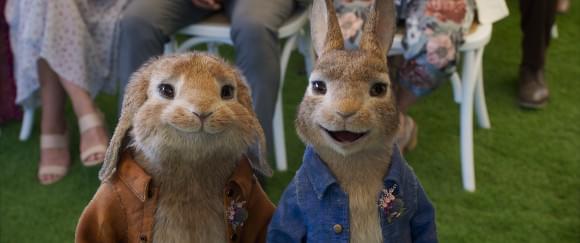 Photo: Courtesy of Sony Pictures ©2021 CTMG, Inc. All Rights Reserved.
Director(s): Will Gluck
Writer(s): Will Gluck and Patrick Burleigh
Cast: James Corden, Rose Byrne, Domhnall Gleeson, David Oyelowo, Lennie James, Rupert Degas, Damon Herriman, Hayley Atwell, Margot Robbie, Elizabeth Debicki, Aimee Horne and Colin Moody
Reviewed by: Ian Evans on
Release Date(s)
Jul 2, 2021 - PVOD


2018's Peter Rabbit had a light, whimsical charm that did its best to mix the sweetness of Beatrix Potter's books with a slapstick adventure pitting Peter (the voice of James Corden) against his new neighbour, Thomas McGregor (Domhnall Gleeson). The movie mixed some good CGI with jokes aimed at both children and their parents. It was as light and fluffy as Peter's tail. While that film ended in a truce between Peter and Thomas, Peter Rabbit 2: The Runaway is sometimes at war with itself.

The film opens with author-illustrator Bea (Rose Byrne) and Thomas getting married. Not only are the woodland creatures in attendance alongside the humans, they're actually part of the ceremony with Peter as best man. We're led to believe that Peter has turned over a new lettuce leaf and put his mischievous ways behind him. Though the rabbits are part of the newlyweds' adopted family, Thomas isn't entirely sure that Peter has changed.

Bea's book gets an offer from a big London publisher, Nigel Basil-Jones (David Oyelowo), and the gang all head off to London. Basil-Jones loves the first book, but his plans for the sequels include spicing up the characters, putting them in extreme situations and locales, and casting Peter as the bad seed. Peter, who has actually worked at being better, faces a turning point: If people are going to see him that way, he'll act that way and he soon falls in with a gang of thieving city animals led by grizzled rabbit Barnabas (Lennie James).

That's where this movie is in conflict with both the first installment and itself. There's a thread about artistic integrity running through the story as Bea finds herself seduced by the big plans for her books that could lead to movies and merchandise. Thomas thinks she's losing sight of the charm of the original book, but this movie is doing the "bigger must be better" shtick itself, taking us away from the family antics of Peter, Benjamin (Colin Moody), Flopsy (Margot Robbie), Mopsy (Elizabeth Debicki), and Cottontail (Aimee Horne) and adding in car chases and heists involving a whole petting zoo worth of new furry faces.

Of course this sort of meta-battle isn't really going to concern this movie's intended audience: families looking for a cute diversion after brunch. It works for that purpose with jokes and slapstick perfect for the young ones and winks, nods, and cultural references tossed in for the adults. If you come at it from that angle, Peter Rabbit 2: The Runaway does its job. If you're a Beatrix Potter purist, then just know that this story strays even further away from the source material than the first installment.