Phineas and Ferb the Movie: Candace Against the Universe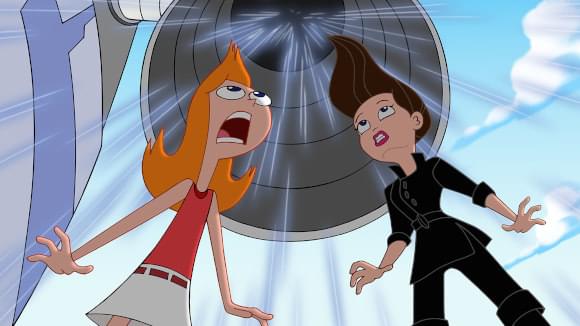 Photo: ©2020 Disney Television Animation
Director(s): Bob Bowen
Writer(s): Dan Povenmire, Jeff "Swampy" Marsh, Jon Colton Barry, Jim Bernstein and Joshua Pruett
Cast: Ashley Tisdale, Vincent Martella, David Errigo Jr., Caroline Rhea, Dee Bradley Baker, Alyson Stoner, Maulik Pancholy, Bobby Gaylor, Olivia Olson, Tyler Mann, Dan Povenmire, Jeff "Swampy" Marsh and Ali Wong
Reviewed by: Ian Evans on
Release Date(s)
Aug 28, 2020 - Disney+


To get straight to the point, Phineas and Ferb the Movie: Candace Against the Universe was exactly the movie I needed to see right now. With the plethora of stresses that 2020 has tossed upon us, I needed a silly, fun, goofy escape with catchy tunes and crazy heroes. This movie, now streaming on the Disney+ service, delivered exactly that.

Candace (the voice of Ashley Tisdale) opens with a song full of sunshine and light and Sixties-styled backup singers that's also tinged with a bit of teenage angst. You see, Candace is the older sister of the highly adventurous Phineas and Ferb, and if you know the story of their Emmy-winning four season show then you know that they tend to go a bit overboard. Like building giant robots in the backyard overboard. You'll know that Candace always want to get them in trouble but something always happens at the last second to make their creations go away. It's enough to drive an older sister crazy and feeling unnoticed.

When Candace and her friend Vanessa (Olivia Olson) are abducted by an alien ship, it's up to Phineas (Vincent Martella) and Ferb (David Errigo Jr.) and their team of young friends to go and find them. This is one group of highly resourceful kids, as they often outsmart the mad scientist, Dr. Doofenshmirtz (voiced by show co-creator Dan Povenmire), who nevertheless has a great musical number about "Adulting." And I didn't even mention the secret agent platypus yet or the alien named Super Super Big Doctor (Ali Wong). The gang is on a rescue mission, but does Candace want to be rescued? After all, on Feebla-Oot she's the centre of attention and light years away from her little brothers.

Along the way, there are clever, catchy songs fully of witty wordplay. There are goofy jokes and informative grammatical lessons like "See how I used vacuum as both a transitive verb and an abstract concept?" There are so many concepts discussed that you'll almost want to jot reminders down to look things up later. It's intelligently nutty. It's also about friendship and family, though it's edgy enough not to be sickly sweet.

The animation is colourful and the creatures and scenery are trippy. It's a visual delight that will entertain your ears and keep you on your toes with its speedy repartee.

And don't forget there's a secret agent platypus.